"Made For Each Other," released in early 1939, marked the only time in Carole Lombard's career that she played a mother chose character gave birth, and we get to see her Jane Mason as a mother in this still from Selznick International. Even better, the photo has a snipe that explains what this is all about:




This vintage 8" x 10" has an initial bid price of $59.99, and the auction is slated to end at 8:03 p.m. (Eastern) Thursday. If you're interested in bidding or learning more, go to http://www.ebay.com/itm/James-Stewart-Carole-Lombard-Made-For-Each-Other-VINTAGE-Photo-candid-on-set-/361353188843?hash=item54225415eb.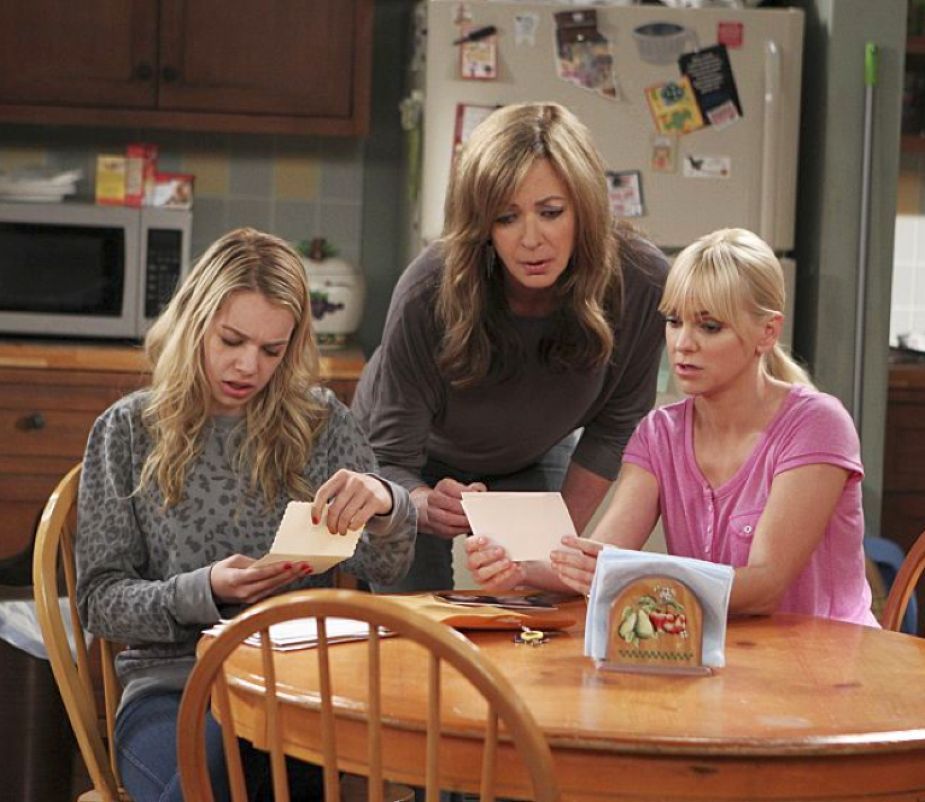 Jane Mason faced significant challenges as a mother in the film, and so does TV's Christy Plunkett (played by Anna Faris, right), but hers are far deeper and more serious than could have been shown on screen in Lombard's day, even in the pre-Code era. Christy is a recovering alcoholic and addict who's had two children (one played by Sadie Calvano, left) by different fathers, struggles to make ends meet -- and on top of that, her mother Bonnie (played by Allison Janney, center), whom she's had a tumultuous relationship with over the years and also is a recovering addict, now lives with her.

On the surface, that doesn't sound like a formula for laughter, but the Chuck Lorre series "Mom" manages to do just that through crisp writing and acting, characters you care about, a blue-collar sensibility rare for today's TV and a watchful balance of comedy and seriousness. Friday marked the filming of the third season's premiere episode, and I attended it at Stage 20 of the Warners studio in Burbank.

Since I'm not the type who divulges spoilers, I won't go into what we in the audience saw. However, I will note that while we were told coming in that we might have to remain until 10:30 p.m. -- four hours after shooting began at 6:30 -- we didn't come close to that worst-case scenario (remember, it was a season opener and both cast and crew might have been rusty). Thankfully, everyone was on their game and it finished at 8:10, while Burbank still was in twilight. As I attended a "Mom" episode last Nuvember, I can't say I was surprised things went so smoothly; Faris, Janney and the rest of the cast are old hands at all this, and the writing and technical people are similarly experienced. Lorre runs a tight ship.

"Mom" fans in the U.S. (and perhaps those in other countries) will have to wait more than three months to see this episode. Yesterday was major league baseball's trade deadline; season three won't open until Nov. 5, after the World Series. (Blame football, not baseball, as NFL games will air Thursdays on CBS in September and October.) And while cameras understandably are banned from TV episode filmings, we each were handed a program, so I've scanned both sides for your perusal.




For LiveJournal users, August will open with a few interior photos of Lombard's renowned residence at 7953 Hollywood Boulevard, which she moved into in the spring of 1934. The first one is Paramount p1202-703, and rather than have me describe it to you, I'll let the snipe on the back tell the story: