I think it safe to say that many of us first saw this delightful image of Carole Lombard on the rear dust cover of this 1975 biography of her:




"Screwball" by Larry Swindell, which celebrates its 40th anniversary this year, was the first Lombard bio of note. Swindell, who's written several other entertainmeent-related books, spoke with many people who knew her in accumulating a lively, readable portrait of this 1930s icon. Michelle Morgan's "Carole Lombard: Twentieth-Century Star," slated for release next year, won't have that at its disposal, but will have access to newspapers, magazines and other publications that have been uploaded online since "Screwball" was published.

So it's interesting to note a copy of the book is up for auction at eBay. The author lists its condition as "acceptable," and while it includes the dust cover (something my copy lacks), a tiny part of it is missing -- not copy, but two pages of photos: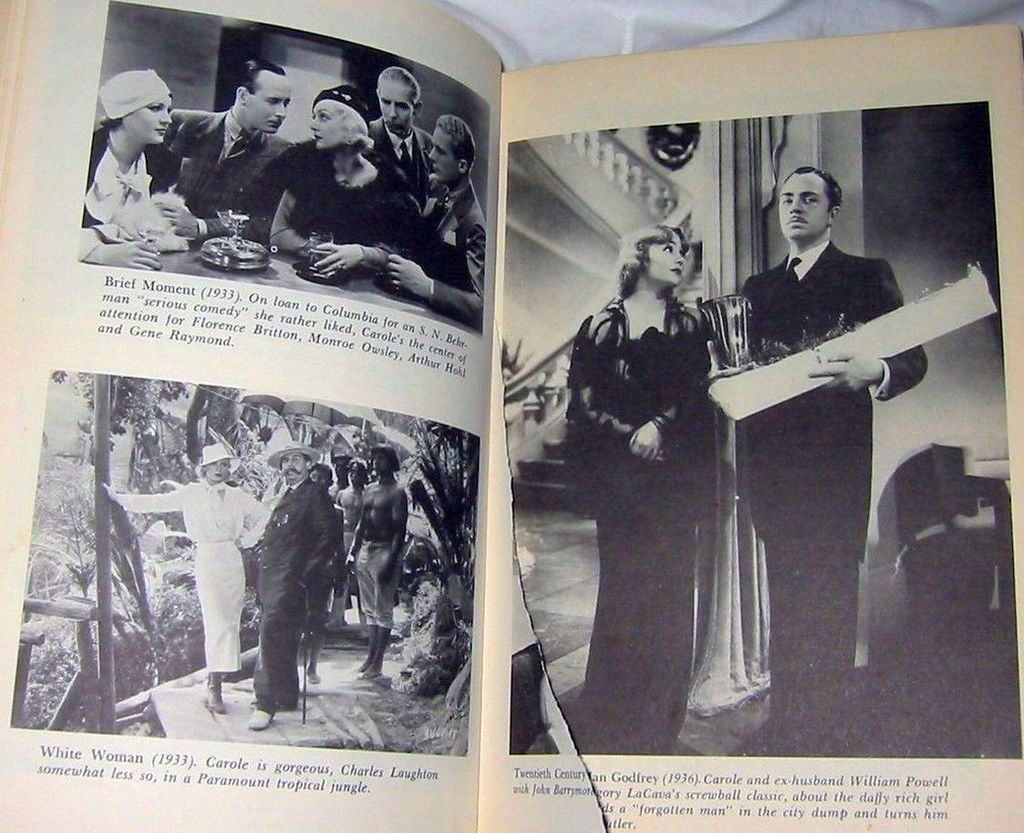 We can see "Twentieth Century" is one of the films whose images have been omitted, and since pages show hwer movies chronologival order (and I don't have the book in front of me as I write this), other films that may have suffered the same fate range from "Bolero" to "The Princess Comes Across."

The seller adds this:

"Hardback EX-LIBRARY book with dust jacket. Please note that one of the picture pages in the book has been torn out (see my photo). This is a hard-to-find title and I just couldn't stand to destroy it...the text and the rest of the pictures are there...what a beauty!

"This is a well-used library book. The flaps of the dust jacket are glued inside the covers and there is a spine tag on the dust jacket. The book is sturdy. There is a spine lean and the expected library stamps, card pocket & withdrawn stamp."

Perhaps because of the missing two pages of photos, the opening bid is a mere $9.99; I've seen this go at eBay auctions for close to $100, and since this one won't close until 6:40 p.m. (Eastern) Sunday, it might reach similar heights. We shall see. You can learn more about this book by visiting http://www.ebay.com/itm/SCREWBALL-The-Life-of-Carole-Lombard-BIOGRAPHY-Larry-Swindell-HBDJ/331584070280?_trksid=p2045573.c100033.m2042&_trkparms=aid%3D111001%26algo%3DREC.SEED%26ao%3D1%26asc%3D20131017132637%26meid%3D07f393a5d98b497491a91c188fd8eb7e%26pid%3D100033%26rk%3D1%26rkt%3D4%26sd%3D331584070280.