Autographs are among the most fascinating facets of Carole Lombard collecting -- and one of the areas where the gullible are most susceptible. Unless you do your research, you can wind up shelling out goodly money for a bill of goods.

The pic above, of Carole with her beloved horse Pico, is the real deal. So too is the following; in fact, its seller claims this may be "possibly the best example ever offered on eBay."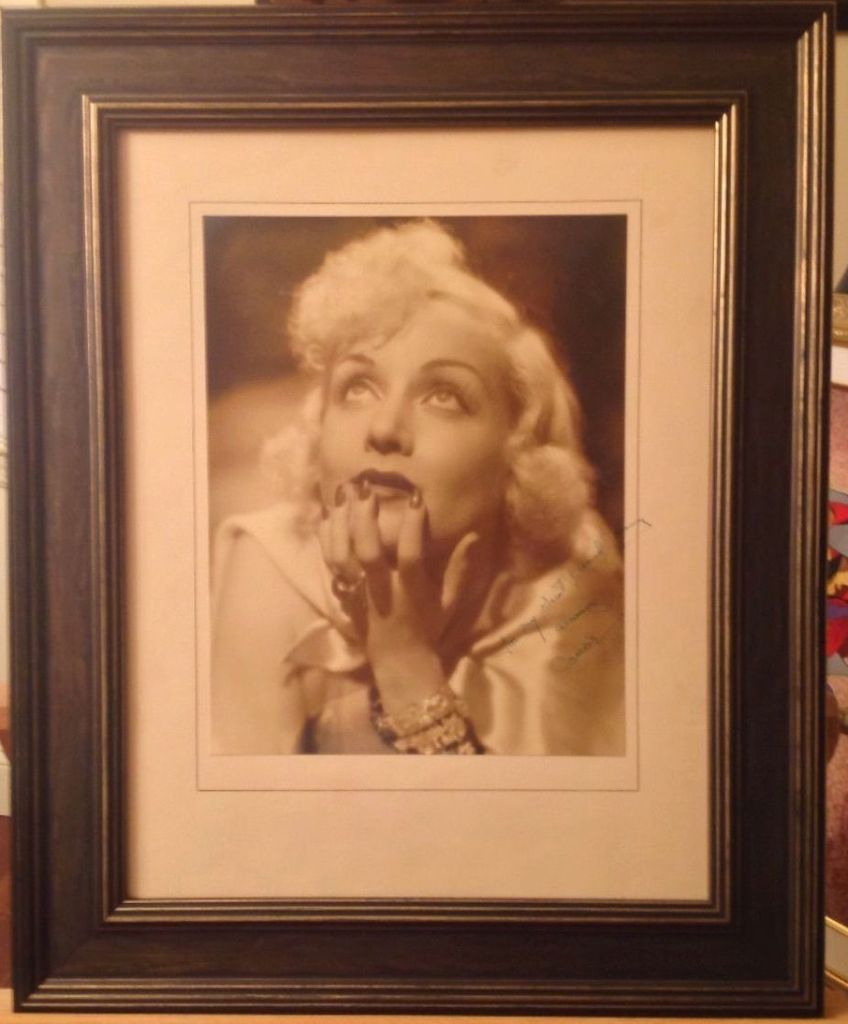 That's the picture, measuring 20" X 24 1/2" in a new frame with museum glass -- the image itself is an 11" x 14" double-weight. Here's the autograph in question:




Lombard's preferred green ink? Check. Handwriting consistent with autographs of hers over the years? Check. (Heck, it even appears as if she misspelled "friend," FWIW.) So, what makes this autographed picture so special? Let Steve Cyrkin, editor and publisher of Autograph magazine, explain:

"Carole Lombard, one of the greatest stars before World War II, died tragically in an airplane crash. She was also part of the star system. So, you'll see 5" × 7" head shots of her usually signed 'Cordially, Carole Lombard' that are almost always secretarial. They were pumped out by the studios to keep fans watching her films.

"On 8" x 10"s and 11" x 14"s, the photos she most likely signed, there are lengthy inscriptions. They're gorgeous photographs and mostly on double-weight stock. There may be 100 to 200, 8" × 10" inscribed photographs of Lombard in existence and they generally sell in the $1,500 range.

"The 11" × 14" photographs of Lombard are much rarer — there are maybe 20 or 30 of them in the world. The real long-term values for a collector are these oversize, signed photographs because they are the rarest. They usually bear personal inscriptions and they are the highest form of collecting Hollywood signed photographs. The price for an 11" × 14" can run from $2,000 to $15,000, depending on a number of factors, including pose, condition, what the inscription says and who it is inscribed to.

"The great stars had access to the best quality of photographs. For instance, when you see an oversize Carole Lombard, it's on double-weight photo stock, and either Otto Dyar or Eugene Robert Richee is usually the photographer. They're exceptional photographs and they are what Lombard would have had personal access to. So, if a friend, a colleague or a fellow star requested an autograph, she would generally take one of these photographs, inscribe it to the person and present it in person — much differently than something you would receive in the mail from the publicity department of the studio.

"No matter which celebrity or era of vintage Hollywood that you are interested in collecting, always remember that the vast majority of celebrity photographs signed in the '30s, '40s and '50s that are not personalized (a photograph with a signature only, a photograph signed 'Cordially, Clark Gable' or 'Best wishes, Jean Harlow') are secretarials — nine times out of 10. That's just the way it worked back then. It's the opposite for the inscribed 11" x 14"s. Nine times out of 10, those are real — not secretarial. The 5" x 7"s are almost always secretarial. The 8" x 10"s are a mixed lot; I would say at least 30 percent are secretarial."

When you reflect on this, it makes plenty of sense, given the way the system worked in addition to time constraints on Lombard and other stars. Here's an example that may prove his point -- possibly a rare blend of secretarial and personal:




The "Cordially, Carole Lombard" appears to be secretarial (many of the "real" autographed photos were simply signed "Carole," no last name needed). But this pic is inscribed to someone...and the ink appears slightly different than for the lower segment.

More about the photo for sale, an image that appears to be from 1933 or '34: It's a "superb and gorgeous vintage matte-finish oversized photo eloquently displaing a dreamy Lombard boldly signed in bright green fountain pen 'For my Best Friend Jimmy always - Carole.' A few traces of the very subtlest wear, with the slightest handling on the mat and mentioned only for the strictest accuracy, otherwise very fine, fresh, immaculate condition. A stellar, blue-chip example for the most discriminating collector!"

Perhaps that explains why this image is on sale for $6,450, or $1,075 for six months; that $1,075 is more than I pay for monthly rent on my Los Angeles studio apartment. Needless to say, you had best be a serious Carole collector to pursue this one. (However, you also have an option to make an offer.)

To purchase, make an offer or simply see some more images of this exquisite oversized Lombard autographed photo, visit http://www.ebay.com/itm/Carole-Lombard-signed-oversized-double-weight-photo-in-green-fountain-pen-/321752904377?pt=LH_DefaultDomain_0&hash=item4ae9f7b2b9.