Carole Lombard's life may have been relatively brief, but she nevertheless met or worked with all sorts of fascinating people -- and one of them was born 100 years ago today. Orson Welles was a multicultural threat in theater, radio and film; his out-of-the-box thinking jolted convention.

Welles and Lombard connected at RKO in 1940, about the time Welles was beginning work on his first film project. (It initially was to have been an adaptation of the comic thriller "The Smiler With A Knife," for which Carole -- whom Orson admired -- was considered for the female lead. That fell through, as did several other possibilities, and Welles "settled" for what became the revolutionary masterpiece "Citizen Kane.")

Welles arrived at RKO after several years in New York theater and radio, including a broadcast that won him nationwide celebrity and controversy...or did it? We're referring to the Mercury Theater adaptation of H.G. Wells' "The War of the Worlds," broadcast over CBS on Oct. 30, 1938. (The following night, Lombard performed on CBS' "Lux Radio Theater.")

Legend has it that the broadcast led to riots and panic from people believing that Martians actually were invading the northeast U.S., specifically the central New Jersey hamlet of Grovers Mills. But according to the British newspaper The Telegraph, "The War of the Worlds" led to little if any furor that evening, and no panic actually took place (http://www.telegraph.co.uk/culture/tvandradio/11573926/The-War-of-the-Worlds-panic-was-a-myth.html?fb_ref=Default).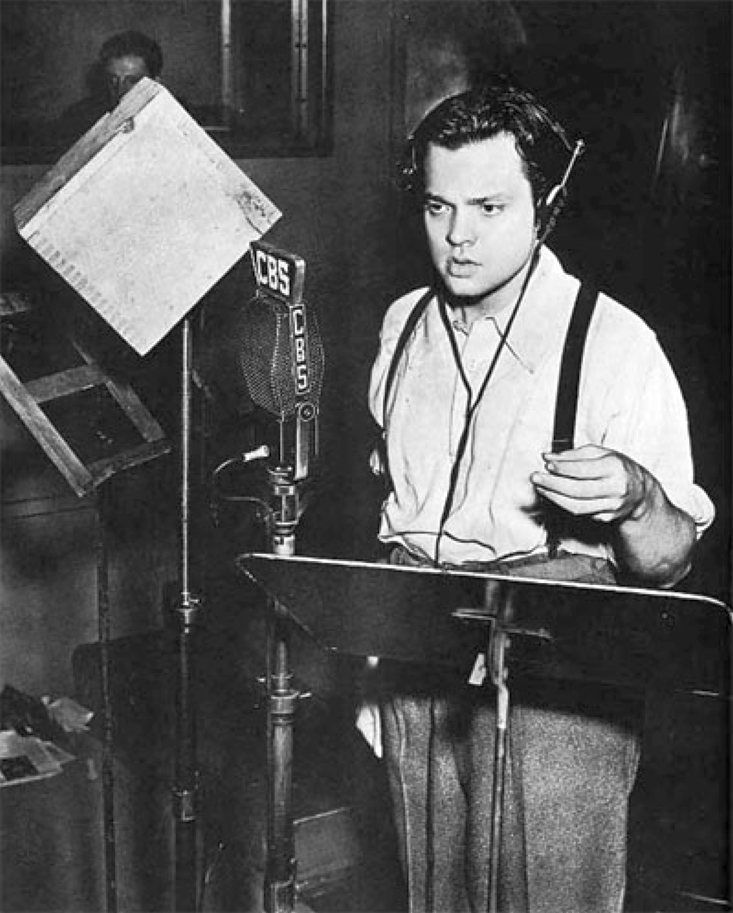 I can believe this for several reasons. My father, age 15 at the time it was aired, heard it that night and wasn't fooled into thinking it was real -- and why not? There were several warnings during the broadcast that it was ficticious, with references made to networks, organizations and locations that didn't exist. And truth be told. while my father was listening, not too many others were; the top-rated radio series in that time period was NBC's "Chase and Sanborn Hour" starring ventriloqust Edgar Bergen and his mildly ribald dummy Charlie McCarthy. (By October 1938, Lombard had appeared on the show several times; we have no record as to what she was listening to that evening, but one guesses it was that program, and not Welles'.) Heck, several CBS affiliates deigned to carry other programming in that time slot instead of the Mercury Theater.

So what led to the myth of hysteria over "The War of the Worlds"? Blame the newspapers.




In 1938, radio was a relatively new medium for carrying news, and the newspaper industry was beginning to show concern over what its relatively young rival could do. (That year CBS, pouncing on public interest over war fears in Europe, inaugurated an extended broadcast called the World News Roundup, which in altered form continues on the network to this day.) The print medium, which was beginning to lose advertising revenue to radio, used Welles' broadcast as a means to attack radio. (Perhaps the newspapers' virulent response to radio led Welles to make his Charles Foster Kane character -- a blend of many magnates -- a newspaper publisher.)




Finally, we know from Henry Jaglom's fine book "My Lunches With Orson" ((http://carole-and-co.livejournal.com/610122.html; http://carole-and-co.livejournal.com/621146.html) that Welles could toss the bull around in a Falstaffian manner...and certainly as years rolled on, Orson did little if anything to dispel the print-the-legend doubt about the effects of that Mercury broadcast. (Indeed, the controversy led to the sustained series getting a sponsur in Campbell's Soup.)

Finally, let's celebrate Welles' centenary with the "Campbell Playhouse" from Jan. 28, 1940 -- an adaptation of "It Happened One Night" with a cast from an alternate universe. The Lombard husband playing the reporter is not Clark Gable, but William Powell; Miriam Hopkins subs for Claudette Colbert as heiress Ellie Andrews; and Welles, all of 24, casts himself in the Walter Connolly role of Ellie's wealthy father. (Also note the Raymond Scott music, such as "Powerhouse," used throughout the broadcast.) Give it a listen, and happy 100th, Orson.



Carole stretches out for Paramount p1202-646, our latest Lombard LiveJournal header.