Two of the more avid tennis fans in Hollywood heaven, Myrna Loy and Carole Lombard, enjoy watching Alice Marble and Bobby Riggs team up for a mixed doubles match (as they did while on our mortal coil in the late 1930s). But that isn't the primary reason Myrna asked her good friend to see the match, as we learn through special transcripts sent us from the world beyond...

Loy: Carole, I wanted you as my guest tonight because I need a favor from you.
Lombard: Anything on your behalf is fine -- you don't need to ask permission. (Smiles) Who do you think I am, the Godfather? Wait till I tell Brando that!
Loy: Well, your pal in the mortal world thought it best to get your permission.
Lombard: I think I know whom you're talking about.
Loy: Yes, it's him, the guy who orchestrated your successful campaign two years ago in the Favorite Classic Movie Actress Tournament.
Lombard: We had a lot of fun with that, like that poster where he enlarged me to King Kong size...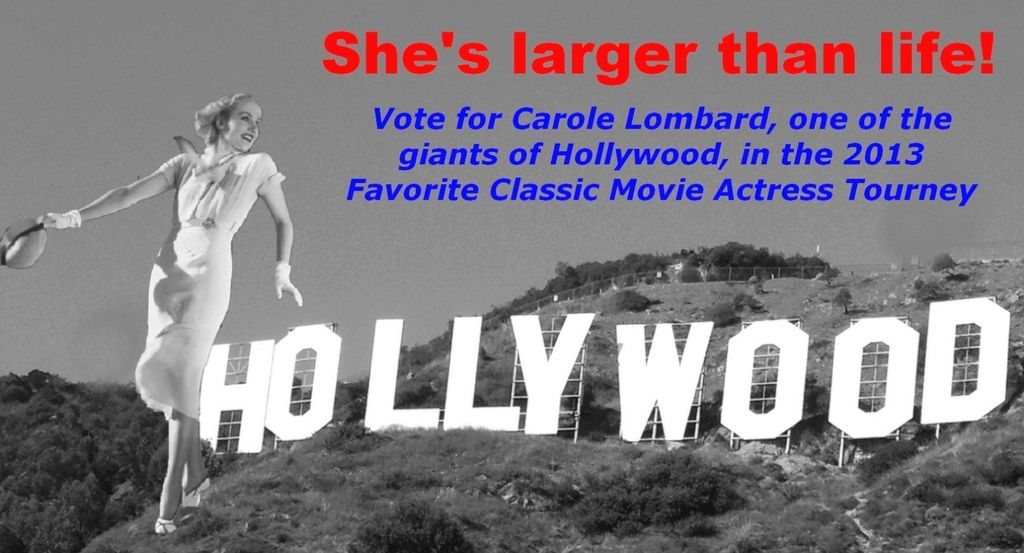 ...though I had to explain to some folks here that I didn't have an inflated sense of self. He played the sex angle up for me, too: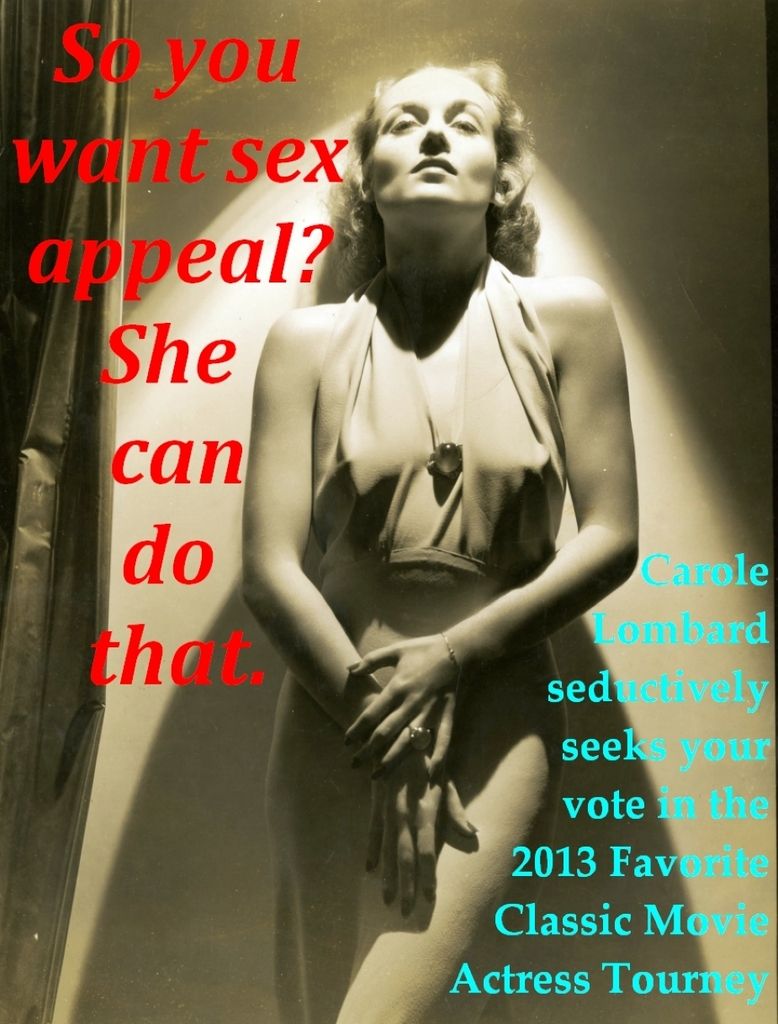 Loy: Now he wants to help me out in this year's finals -- according to him, I'm his second favorite all-time actress, and beat his third all-time fave, Barbara Stanwyck, to win the '30s title.
Lombard: Who are you up against?
Loy: Natalie Wood, who won the '60s title, then routed Greer Garson in one semifinal -- as for me, I defeated Audrey Hepburn in the other.
Lombard: Natalie's a really nice person. Hate how she got here, though.
Loy: As do I. Anyhow, your friend has nothing against her, either -- he simply wants 1930s actresses to keep dominating this event.
Lombard: Bette Davis won it all last year after finishing second to me in 2013, and she came out of the '40s division.
Loy: True, but I was reminded she won two Oscars in the thirties, none in the forties.
Lombard: So you want him to help you? Sure, go ahead.

And so I will -- not through any banners, but through a call for my fellow Lombard fans to back Myrna. At last glance, Loy and Wood are neck-and-neck, with voting continuing through the rest of the week. Go to http://poohtiger-allgoodthings.blogspot.com/ to cast your vote. Thirties solidarity!