We continue our Carole Lombard Film Daily series by looking at 1928, a year that would end with Lombard wearing the famed Pathe rooster on a sweater as part of its roster of stars (and renamed "Carol" by the studio in the process). It was a year in which Lombard drew further recognition as part of Mack Sennett's comedy stable, freelanced at a few other studios, and seemed on her way to a role in a production from one of the era's leading directors.

More on that later. We'll begin with May 24, 1928 -- Film Daily's 10th anniversary issue:




It's a gargantuan 178 pages, including 60 full-color pages from Fox. The reprinting of Film Daily volumes in color overwhelms the viewer (then and now) with their artistry; take this as an example:




And a Lombard film on a freelance return to Fox was included in the color spree, although she wasn't mentioned:




Never fear, though -- you could find Lombard's name in this supersized issue, although Pathe (which released Sennett product) only contributed five pages in spot color. Lombard wasn't mentioned in the following two pages, although it named a few films she would appear in...




...but the two pages after that promote Mack Sennett shorts, then list Lombard in a comedy series she would never appear in: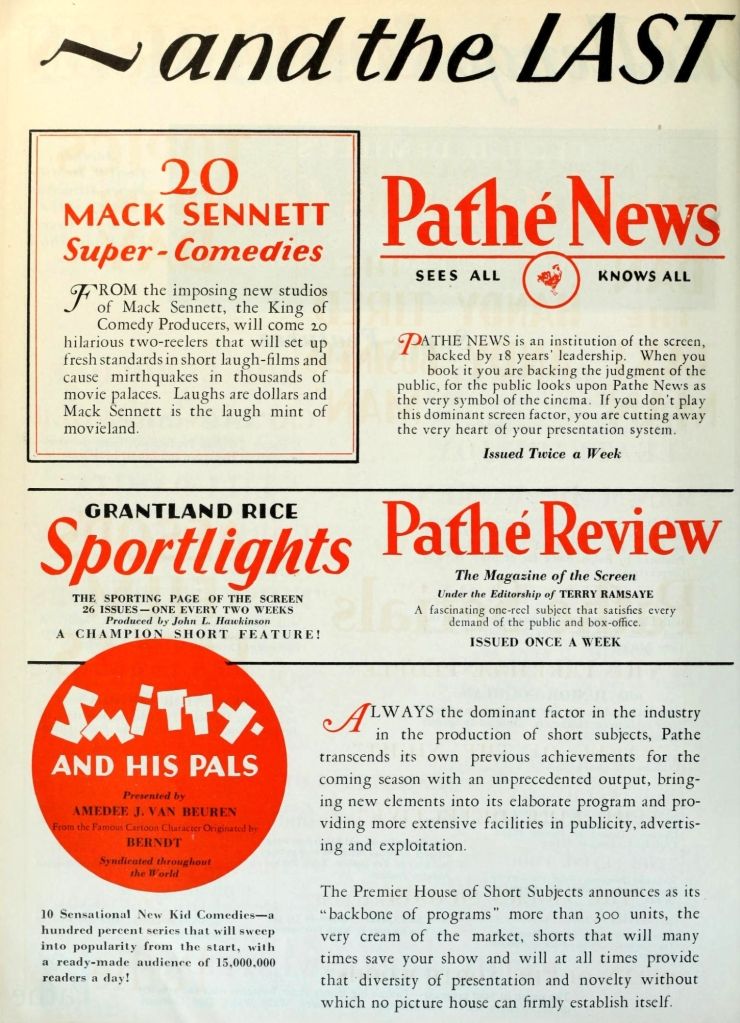 The "taxi" series was produced by Sennett (one of the shorts, "Taxi For Two," will be shown on Turner Classic Movies Sept. 27 as part of its month-long Sennett celebration), and all were directed by Del Lord, best known for his 1930s work with the Three Stooges.

Sennett's ties with Pathe enabled Lombard to work for the parent studio when there were no conflicts, and the July 15 Film Daily lists her as part of the cast for "Show Folks":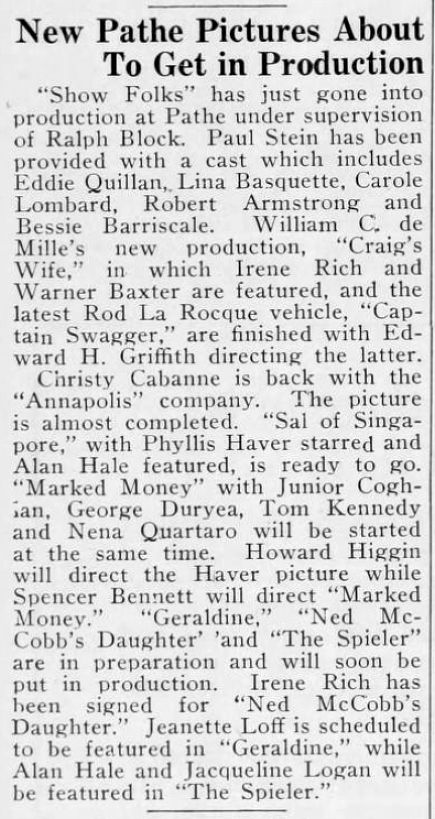 On Aug. 17, it was announced Lombard -- now absent the "e" in "Carole" -- had been signed to a long-term contract by Pathe, working on "Ned McCobb's Daughter":




Two days later, Lombard twice appeared in the trade paper, first rehashing the "Ned McCobb" news...




...then in part of a column where she is praised for her versatility:




The Sept. 11 issue said production was progressing on "Ned McCobb's Daughter," but note the following paragraph. How many people are aware that "Hollywood's father confessor," the ill-fated Paul Bern, worked at Pathe? One presumes he and Lombard knew each other, though they never collaborated on a project.




Now for a bonus: This bound volume of Film Daily also included issues of other film industry publications presumably printed by the magazine. One was named Exhibitors Daily Review, and its Sept. 21 issue noted Pathe had tested several of its players for dialogue, Lombard among them, and the good news was that "Voices and faces registered perfectly, and with absolute synchronization."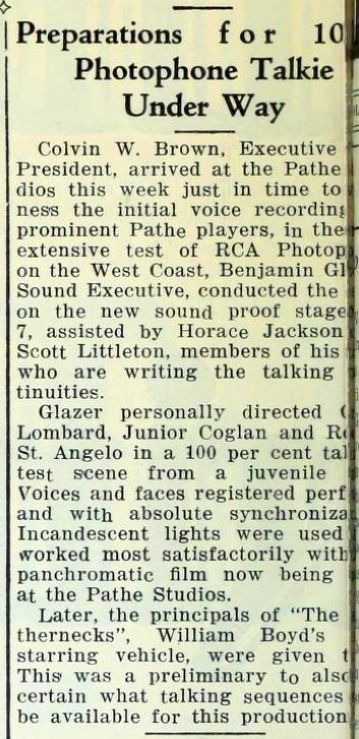 Back to Film Daily and its Sept. 23 issue for a review of what may be Lombard's most obscure movie, "The Divine Sinner." It's so little-known that I have yet to even see a still from it:




The Oct. 2 Exhibitors Daily Review reported that Pathe was going all-talkie, and that as a result, Lombard and other players signed new contracts:




On Nov. 22, the Review that Lombard wasn't merely going to be a Pathe player, but promoted as a star:




But some of her Sennett material was still being released (and contractual obligations required her to make one final short, "Matchmaking Mamma"), and just to remind Lombard of her past, the Nov. 25 Film Daily reviewed "The Campus Vamp":




Lombard's stature was rising in Hollywood, so much so that the Dec. 7 Exhibitors Daily Review announced she was to be the female lead in Cecil B. De Mille's new movie, "Dynamite":




Also note the blurb about Pathe purchasing its own radio station. Might Lombard have made her radio debut on that station in the late 1920s?

"Show Folks" was reviewed in the Dec. 16 Film Daily, although Lombard wasn't mentioned:




The following day, she was mentioned in two briefs from Film Daily:




But come Dec. 22, the Exhibitors Daily Review reported what might have been a setback for Lombard -- a new female lead for "Dynamite":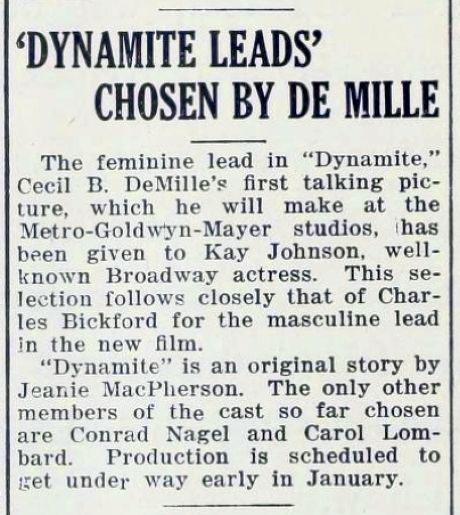 Lombard is still listed as part of the cast and production wasn't to start until January 1929, so it's likely De Mille had relegated her to a supporting role. However, eventually she wasn't even able to take care of that.

This week's LiveJournal header is a lobby card from what may have been the final film Carole made before her accident -- 1926's "The Road To Glory," starring May McAvoy. This was directed by Howard Hawks, who eight years later would lead Lombard to her own cinematic glory in "Twentieth Century." (Incidentally, this film, presumed lost, has nothing in common with a late '30s Hawks-directed movie of the same name.)