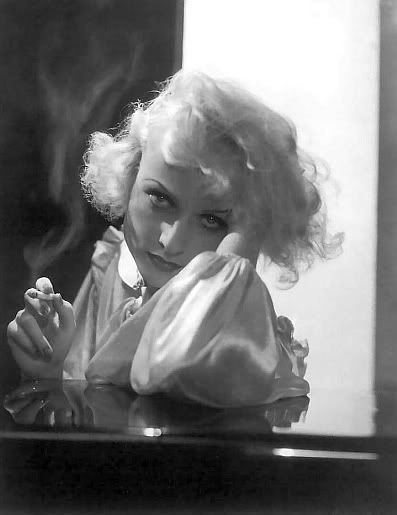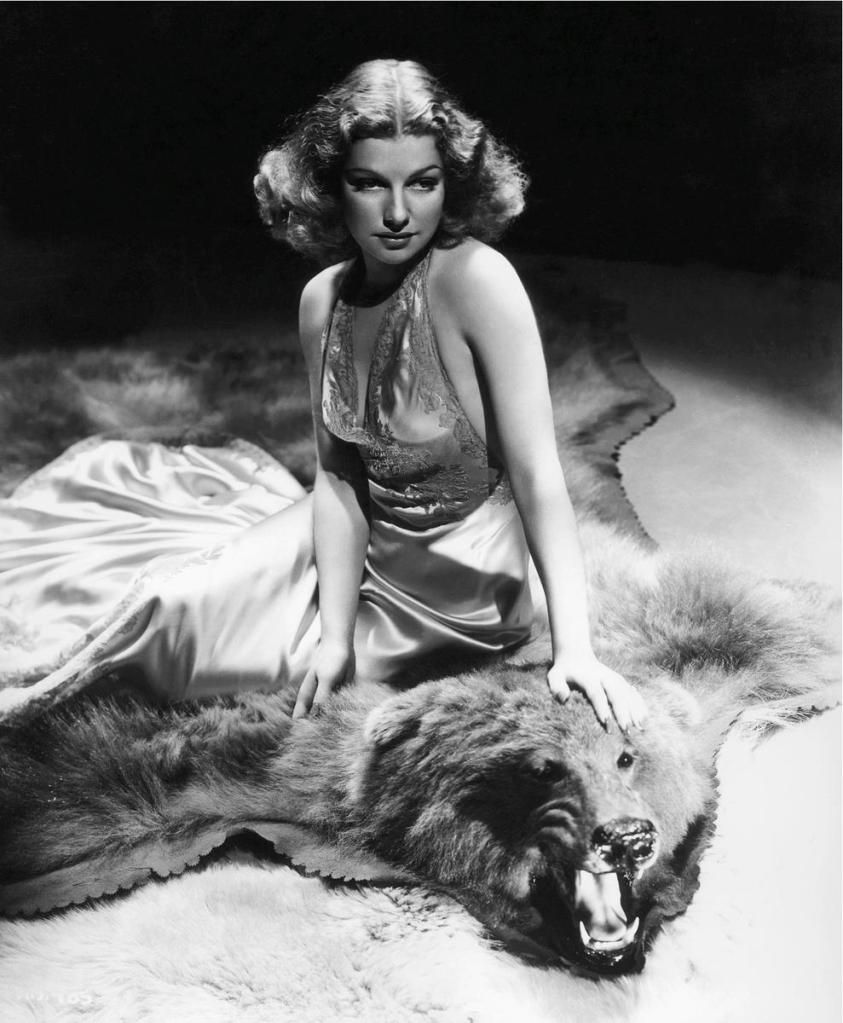 More evidence of George Hurrell's photographic genius, noted in yesterday's entry -- that's Carole Lombard, of course, but who's in the portrait next to her? An actress named Ann who had some success, particularly at Warners, but never quite cracked the top tier of stardom her talent deserved. No, we're not referring to Dvorak, but an Ann from Warners circa 1940...Ann Sheridan.




As these pics of her make evident, Ann was quite photogenic, and was probably the closest thing Warners had to a sex symbol as the '30s turned into the '40s. But she was a fine actress, too, contributing to films such as "They Drive By Night," "Torrid Zone" and, in 1949, the Howard Hawks-Cary Grant comedy "I Was A Male War Bride."

So, what's this all have to do with Carole Lombard? Well, like several other stars of the '40s, Sheridan began her career at Paramount in the mid-'30s -- and, like her contemporaries Ida Lupino, Betty Grable and Marsha Hunt, Paramount had no idea what to do with her. (Until "Twentieth Century," made at Columbia, showed the way, the same could be said for Paramount's handling of Lombard.)

Oh, and Ann and Ida have another thing in common: Both got their start in Paramount's notorious late pre-Code, "Search For Beauty" (although Lupino was billed in the film, while Sheridan was among the winners of a studio-sponsored beauty contest for extra parts). Here's Sheridan, player p1703, in an early studio still:




Note she was listed as Clara Lou Sheridan; that was the Texas native's real name. About the only thing she got at Paramount was a new moniker. Other than that, she had small roles in the likes of "Mrs. Wiggs Of The Cabbage Patch," "Murder At The Vanities" and "The Crusades," but was fired by the studio in mid-1935.

Years later, in a remarkable interview with John Kobal, Sheridan recalled her days at Paramount and some of its stars:

John Kobal: It must have been very difficult for you young girls to get ahead with the big star ladies keeping you down like that.

Ann Sheridan: Oh, Carole (Lombard) didn't have that thing at all. She was really a down-to-earth person. Very special. We all loved her. And Dietrich -- I don't know her. I wasn't on any of her films, but I shouldn't think that Miss Dietrich ever said, "Don't put so-and-so in a scene with me," or "I don't want her in my film." Dietrich didn't have to worry about that. She didn't have to. You didn't look at anybody else in a scene she was in anyway.

This is from an interview Kobal conducted with Sheridan in 1966, and can be found in its entirety at http://www.ann-sheridan.com/Ann_Sheridan_Interviews/Ann_Sheridan_John_Kobal_Interview.html. (The entire http://www.ann-sheridan.com site is terrific, BTW; there are hundreds of photos of her, a biography, video and audio clips and more.)

Sheridan, now 21, moved to Warners in 1936 and gained her first starring role in late 1938's "Angels With Dirty Faces." After the film came out, columnist Walter Winchell wrote of her work in the film, she had "plenty of Umph." Warners changed it to "oomph" and a publicity campaign was on its way...along with the one word Sheridan would be known for the rest of her life. Another Hurrell photo was part of the hype:




And this Life magazine cover from July 24, 1939 proved Lana Turner wasn't Hollywood's only star who could fill out a sweater: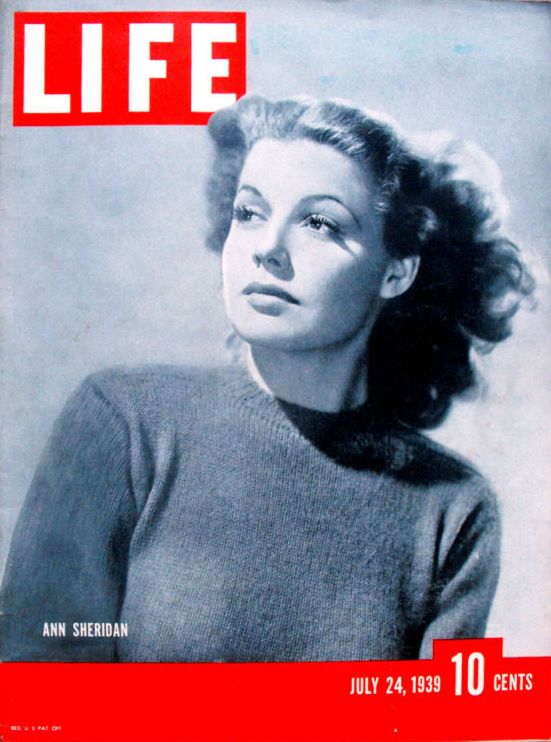 Sheridan never cared much for the title "oomph girl":

"I loathe that nickname! Just being known by a nickname indicates that you're not thought of as a true actress ... It's just crap! If you call an actress by her looks or a reaction, then that's all she'll ever be thought of as."

Sheridan continued to make good films throughout the '40s, including "Kings Row," "George Washington Slept Here," "The Man Who Came To Dinner" and "Nora Prentiss." She left Warners in 1948, made some films for Twentieth Century-Fox and Universal, but her career declined during the '50s. By the 1960s, she had moved to New York and had some success in soap operas, and in 1966, she returned to Hollywood to star in a CBS western sitcom, "Pistols 'n' Petticoats."

But that year Ann, a smoker for much of her life, was diagnosed with advanced cancer of the esophagus and liver. It progressed quickly, and she passed away on Jan. 21, 1967, a month before she was to turn 52.

Sheridan's blend of beauty and toughness made her one of classic Hollywood's more memorable actresses. As was the case with Dvorak, one wonders how she might have fared at a lot other than Warners, where she fell victim to studio politics (especially since Sheridan had genuine comedic skills that were rarely utilized in Burbank). For classic movie buffs, Ann is still fondly remembered.