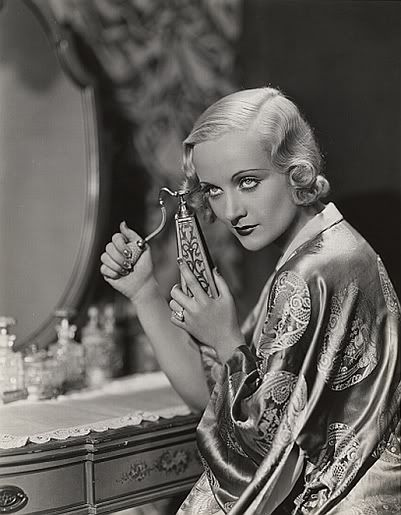 Carole Lombard: Hey, Connie, it's been more than two years since I saw you!
Constance Bennett: Yeah, even here in Hollywood heaven our paths don't cross that much.
Lombard: Well, do you remember the last time we chatted? (http://carole-and-co.livejournal.com/320567.html). The one where we both had October birthday celebrations on Turner Classic Movies, and I noted I had been its Star of the Month in October 2008 and you had yet to receive that honor?
Bennett: (embarrassed) Yeah.
Lombard: Well, consider things even, because this November, you're getting that honor, too!
Bennett: (incredulous) Really?
Lombard: Yeah, it's true. It hasn't officially been announced yet, but some of those folks who inhabit the TCM message boards have been doing their research, and uncovered the info (http://forums.tcm.com/thread.jspa?threadID=165912&start=15&tstart=0).
Bennett: Thanks for telling me this. Know anything more?
Lombard: Well, your films will be in prime time each Tuesday in November, which of course means...
Bennett:...that the first night will be that of the presidential election.
Lombard: That's right, Nov. 6. Better hope for a landslide so people won't be watching the returns instead.
Bennett: Well, you know I'm as much a Republican as you and sister Joan are Democrats.
Lombard: Were on all counts, Connie -- you know we don't discuss politics here in the hereafter. Anyway, there's some good stuff on from you that night, so let people go online for the returns. I'll let our narrator mention what films are on.
Narrator: Thanks, Carole. Here's the Nov. 6 schedule, all times Eastern: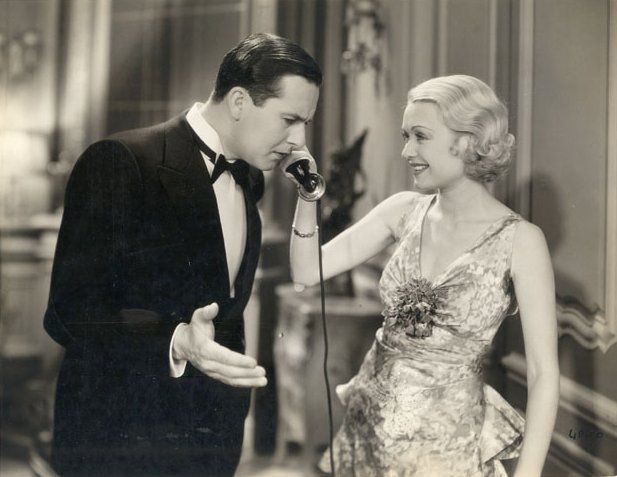 * 8 p.m. -- Lady with a Past (1932)
* 9:30 p.m. -- Sin Takes a Holiday (1930)
* 11 p.m. -- The Easiest Way (1931)
* 12:30 a.m. -- The Common Law (1932)
* 2 a.m. -- Son of the Gods (1930)
* 3:45 a.m. -- Born To Love (1932)

Lombard: Lots and lots of pre-Code Connie. You were big then!
Bennett: (smiling) I like to think I'm still big.
Lombard: You took my friend Gloria Swanson's marquis -- are you taking her lines now, too?
Bennett: (sighing) Strike that from the record, please. What about the following week?
Narrator: Connie, here are your films for Nov. 13: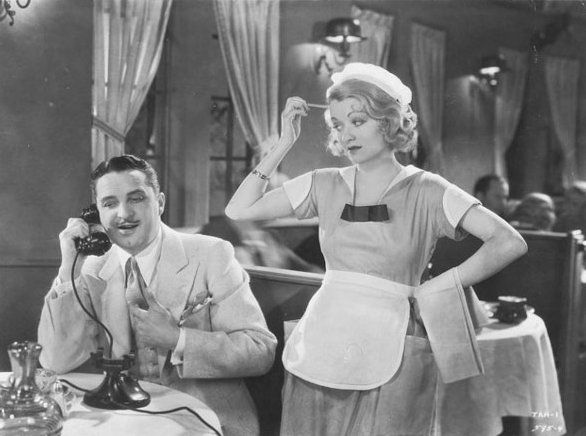 * 8 p.m. -- What Price Hollywood (1932)
* 9:45 p.m. -- Our Betters (1933)
* 11:15 p.m. -- Two Against The World (1932)
* 12:30 a.m. -- Law of the Tropics (1941)
* 2 a.m. -- Rockabye (1932)
* 3:15 a.m. -- After Tonight (1933)

Bennett: As you know, Carole, "What Price Hollywood" became the basis for "A Star Is Born."
Lombard: And you made for one cute Brown Derby waitress!
Bennett: I'm not sure why "Law Of The Tropics" was scheduled that night with all the '32 and '33 stuff.
Lombard: Don't worry about it -- those TCM people know what they're doing. Not long after Ernest Borgnine got here, I talked with him about the channel, and he had nothing but nice things to say about them. Glad they gave him 24 hours of tribute last month.
Bennett: Two weeks down, two to go. What's on for the 20th?
Narrator: Here's what we have, as far as we know:




* 8 p.m. -- After Office Hours (1935)
* 9:30 p.m. -- Merrily We Live (1938)
* 11:15 p.m. -- Topper (1937)
* 1 a.m. -- Topper Takes A Trip (1939)
X
* 3:30 a.m. -- Bed of Roses (1933)

Bennett: (aghast) What's that "X" for? I never made an X-rated film in my life -- heck, I left before the ratings system was put in!
Narrator: Relax, Connie. It simply means TCM hasn't filled the scheduling hole yet.
Lombard: On the thread, they're conjecturing it could be "Three Faces East," or even "Sally, Irene And Mary." You were making that silent with Joan Crawford at the same time I used to face her in dance contests at the Cocoanut Grove.
Bennett: Carole, note they're showing the film in which I co-starred with your second husband --
Lombard: Followed by the movie you got as a consolation prize for missing out on co-starring with my first!
Bennett: And two with me as the original version of the "ghostess with the mostest"!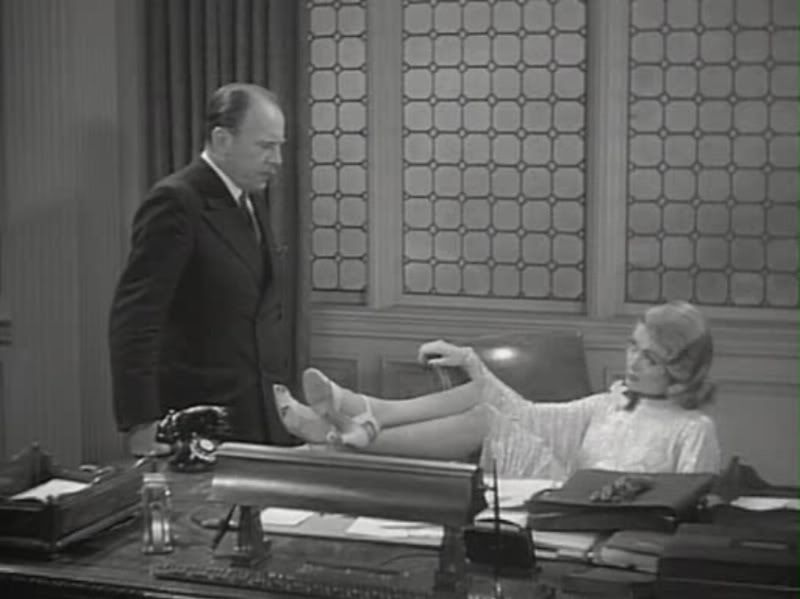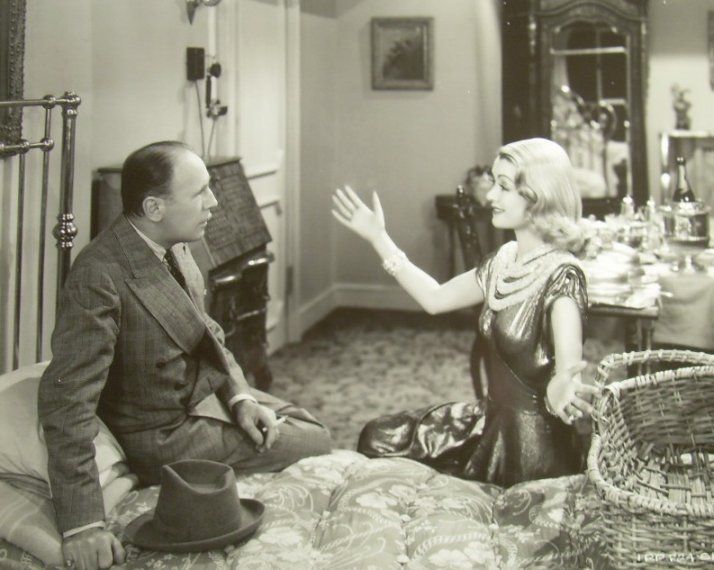 Lombard: Connie, before Hal Roach's special effects whiz Roy Seawright dissolves your ectoplasm again, let's see what your films are for the 27th, the final week.
Narrator: OK, Carole, here they are: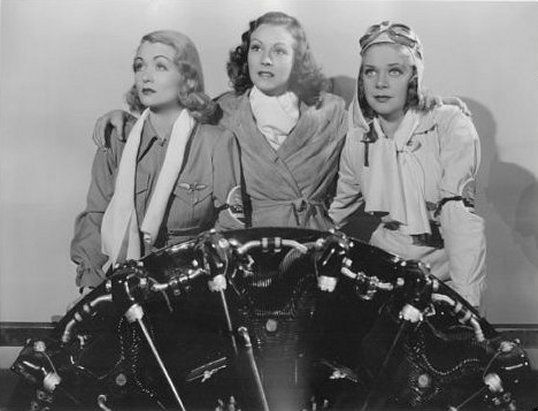 * 8 p.m. -- Tailspin (1939)
* 9:30 p.m. -- Wild Bill Hickok Rides (1942)
* 11 p.m. -- Two-Faced Woman (1941)
* 12:45 a.m. -- Smart Woman (1948)
* 2:30 a.m. -- The Unsuspected (1947)
* 4:30 a.m. -- Escape To Glory (1940)

Bennett: Later films, I see. Too bad they couldn't fit "Paris Underground" on the schedule -- I produced that one, you know.
Lombard: Something I always wanted to do, at least officially. At least it includes the one where you upstaged Garbo.
Bennett: Don't you dare go into that "The Princess Comes Across" Garbo impression!
Lombard: Hadn't even thought of it. I see it has that one you made with Alice Faye -- where she doesn't sing.
Bennett: Even Darryl F. Zanuck couldn't have shoehorned a song into that one.
Lombard: All in all, a pretty good batch of your films.
Bennett: I'd agree, though I would've loved to have seen a few others -- not just "Paris," but "The Affairs Of Cellini" --
Lombard: Frank Morgan was great in that one.
Bennett: (nods) Yep. Also "Moulin Rouge," and that last movie I made, the Lana Turner "Madame X," where I got a facelift and showed her up.
Lombard: Ah, to vanity. (Pauses) Anyway, congratulations on joining the Star of the Month club. And narrator, tell this to the folks at Turner: If you don't give Loretta Young the honor in January 2013 -- her centenary month, just as October 2008 was with mine -- you're nuts.
Bennett: And one of these months, please honor my older sister Joan.
Lombard: (shaking her head) She's your younger sister, Connie. You should know by now you don't have to put on that act up here.