In 1933, Carole Lombard, Groucho and Harpo Marx, and young star Jackie Cooper took part in a midget auto "race" on the Paramount lot that the studio captured on camera for one of its "Hollywood On Parade" short subjects. We've run publicity stills from that "event" before, but another one, from a different angle, has surfaced: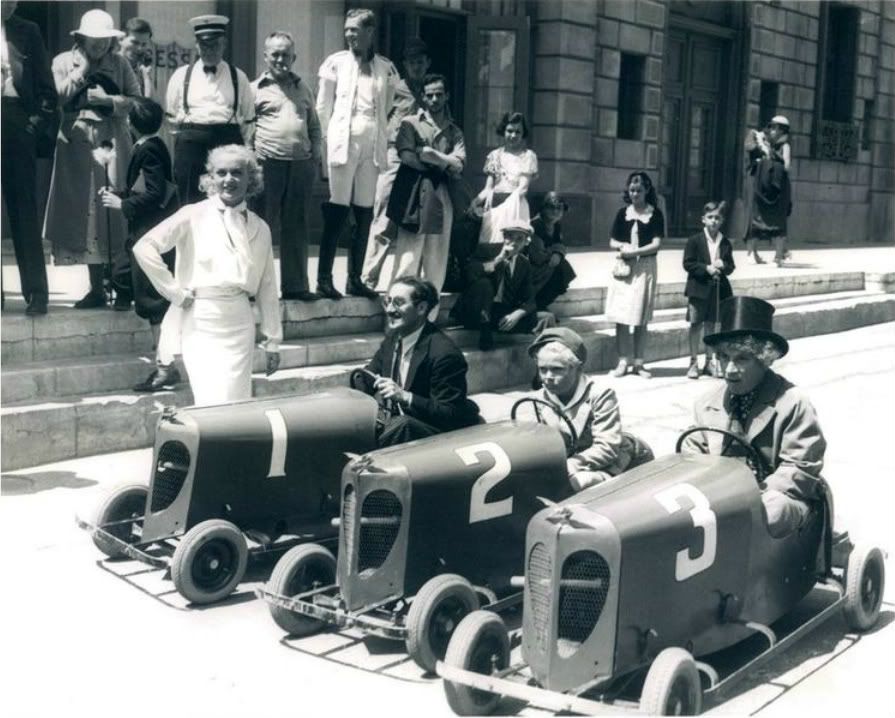 Lombard, dressed in white, looks ever so glamorous, and it's fun to see the dozen or so people on the steps behind her, studio employees or visitors to the lot wondering what the heck was going on.

This image was restruck in the 1950s and belonged to a United Press employee. (UP merged with Hearst's International News Service in 1958 to form United Press International, which still survives today, albeit in diminished form.) It's 8" x 10", in good condition, and is being auctioned at eBay.

No bids have yet been placed on this item, even though the opening bid for this relatively rare image is a reasonable $9.99; bidding ends at 10:26 p.m. (Eastern) Wednesday. To place a bid, or simply to learn more, visit http://www.ebay.com/itm/VTG-Actress-Carole-Lombard-Groucho-Harpo-Marx-Jackie-Cooper-Go-Cart-Race-Photo-/170693489834?pt=Art_Photo_Images&hash=item27be1ff4aa.