A publicity photo of Carole Lombard with John Barrymore for their film "Twentieth Century" was famously rejected by Joseph Breen's industry production office -- though it was a few months before the Production Code would be strictly enforced -- because Lombard showed a bit too much leg, and perhaps a nipple as well (http://carole-and-co.livejournal.com/62897.html). Another still of them did go through, this one showing Carole's shapely shoulders (with hints of more skin below):




The movie infers that their characters, Mildred Plotka/Lily Garland and Oscar Jaffe, were intimate with each other sexually, and several biographers believe life imitated art with Lombard and Barrymore. No such relationship has ever been suggested between Carole and the great character actor Walter Connolly, but they made several films together, including "Twentieth Century," from which this casual shot, taken by Columbia's Irving Lippman, is derived: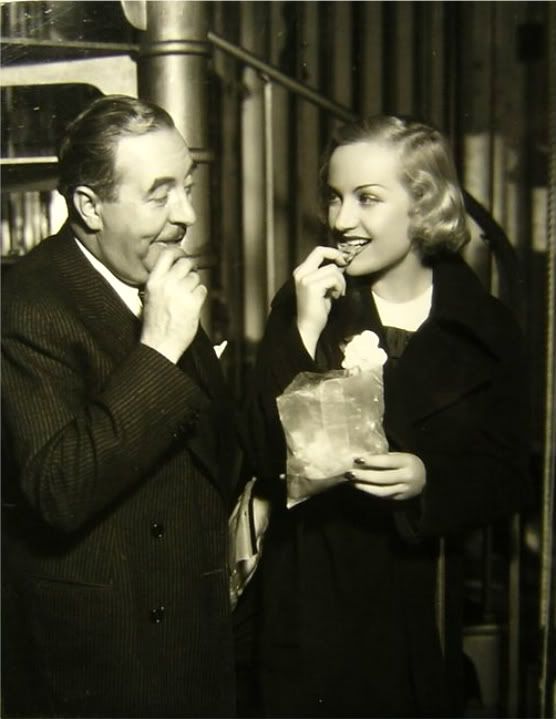 Bids on each of these rare photos, both 8" x 10" originals, begin at $49.99, with bids closing shortly after 9:10 p.m. (Eastern) on Sunday. For the Barrymore photo, visit http://www.ebay.com/itm/CAROLE-LOMBARD-JOHN-BARRYMORE-TWENTIETH-CENTURY-H774-/380367383343?pt=LH_DefaultDomain_0&hash=item588fa9ab2f; for the Connolly pic, go to http://www.ebay.com/itm/CAROLE-LOMBARD-TWENTIETH-CENTURY-30s-CANDID-PHOTO-H763-/200649357609?pt=LH_DefaultDomain_0&hash=item2eb7a23929.

I'm not 100 percent certain Lombard is in the following pic (if it is, she's on the left); nor do I know whom the woman on the right is (Ruth Chatterton?). What I do know is that the photo is from the first few months of 1931, promoting a dinner dance benefit by the Thalians that April at the Cocoanut Grove (a place Carole had frequented since her teens). The heavy jacket she's wearing makes one guess this was taken in February or early March: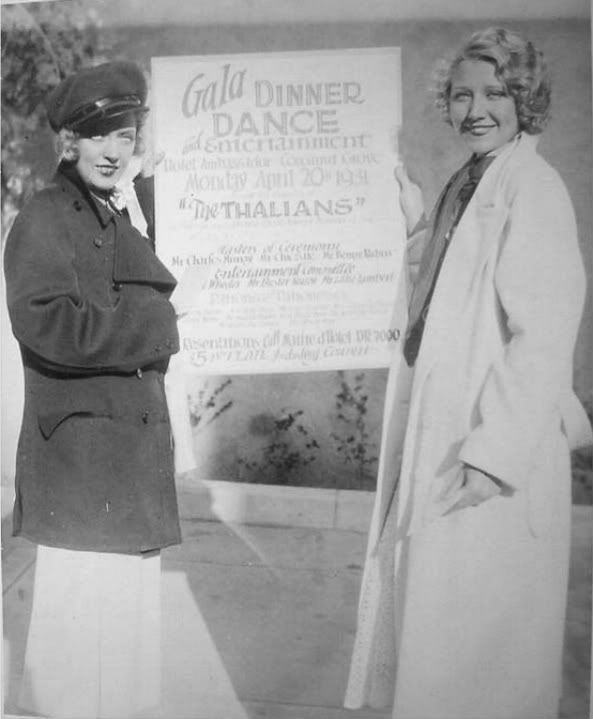 It's an original 8" x 10" from the same seller as above, with the same closing bid deadline; however, bids begin at a mere $24.99, probably because the photo is somewhat faded (I converted it to greyscale to improve the clarity). To learn more, visit http://www.ebay.com/itm/CAROLE-LOMBARD-CANDID-30s-VINTAGE-PHOTO-H776-/400240800449?pt=LH_DefaultDomain_0&hash=item5d3035f2c1.

With the 10th anniversary of the Sept. 11 terrorist attacks to be commemorated Sunday, it seemed appropriate to make this week's header a photo of Lombard, with the "V" for victory on her hat, at the Indianapolis flag-raising ceremony on Jan. 15, 1942.