Frank Driggs is well known among jazz buffs for his photo and memorabilia collection; he amassed more than 100,000 photographs. A National Public Radio story from March 2005 -- when it was announced he was selling his collection -- noted, "The pictures —- mostly black and white, and often the original print -— run the gamut of photography, from candid shots of Lionel Hampton performing to staged promotional photos and portraits of Louis Armstrong, Miles Davis, and others. Stored in old filing cabinets in Driggs's apartment, the names on the back of the prints are both legendary and obscure, cataloging band lineups and noting the rise of Count Basie."

What many don't know about Briggs was that he also collected film-related photos as well, from movies that had nothing to do with jazz (aside from possibly a band or orchestra performing at a big-city theater in support of the film). Several of those pictures feature Carole Lombard in rare shots from several of her early '30s movies, and these are currently being auctioned at eBay.

Take this pic of Lombard with Jack Oakie in "From Hell To Heaven," for instance: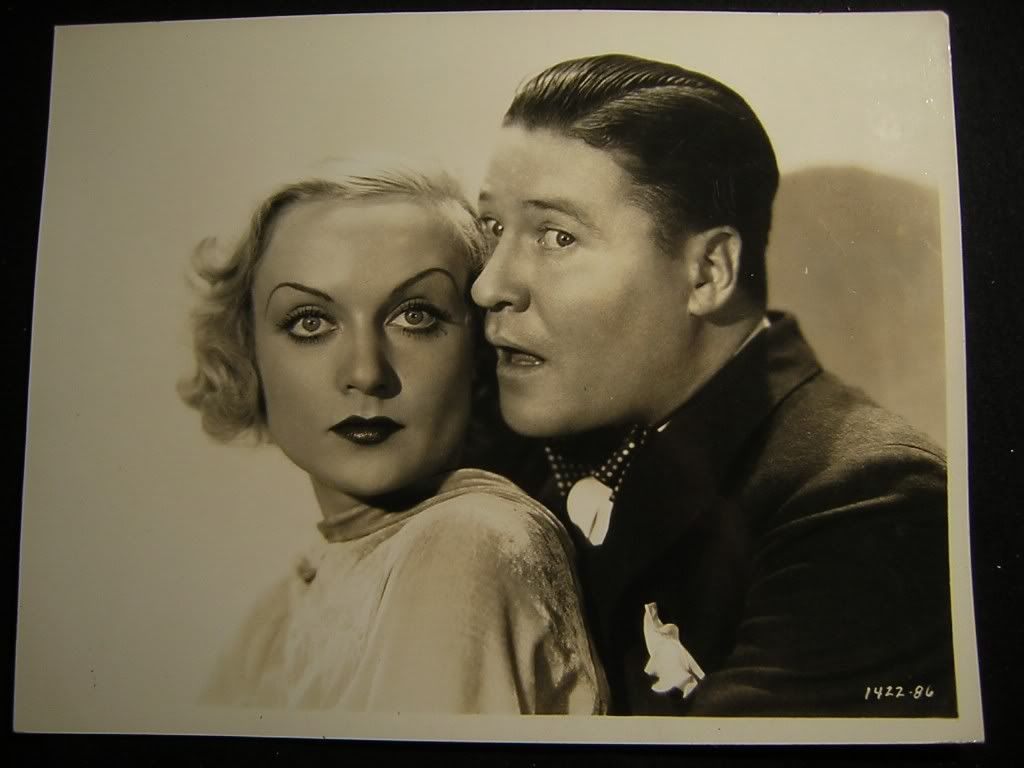 Note the person who catalogued it initially believed it to be from "Supernatural," another Lombard Paramount programmer from 1933, then listed the film as "From Heaven To Hell." (Hey, had it been a big hit, perhaps that could have been the sequel!)

Bids for this photo begin at $24.99; no bids have been made as of this writing. Bidding closes at 9:24 p.m. (Eastern) Sunday, so we'll see how the price ascends over the week. If interested, go to http://cgi.ebay.com/CAROLE-LOMBARD-HEAVEN-HELL-VINTAGE-PHOTO-347J-/380350506312?pt=LH_DefaultDomain_0&hash=item588ea82548.

Another pic from that movie, also listed with "Heaven" and "Hell" transposed, shows Carole with Sidney Blackmer:




Its bids close a minute earlier than its counterpart, and bidding begins at $49.99 (is Blackmer deemed more valuable than Oakie?). Visit http://cgi.ebay.com/CAROLE-LOMBARD-HEAVEN-HELL-VINTAGE-PHOTO-348J-/400225569458?pt=LH_DefaultDomain_0&hash=item5d2f4d8ab2 to learn more.

Lombard looks stylish in this shot with Walter Byron from 1932's "Sinners In The Sun":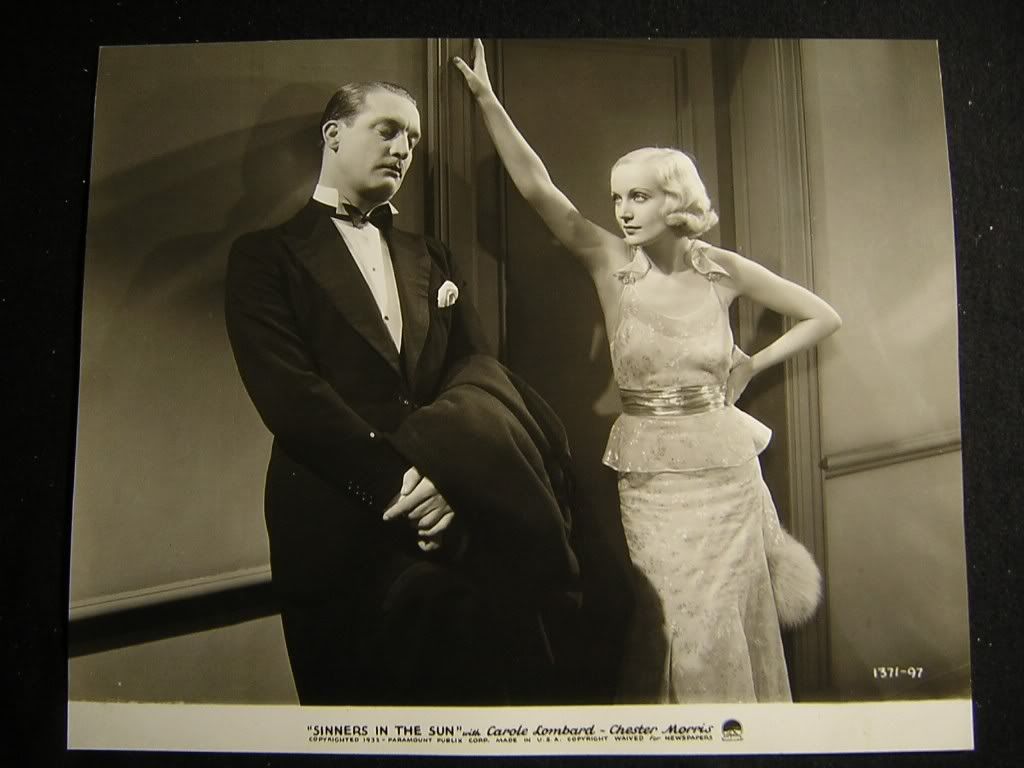 Bids for it end at 9:25 p.m. (Eastern) Sunday, and the minimum bid is $24.99. Bid, or get more information, at http://cgi.ebay.com/CAROLE-LOMBARD-SINNERS-SUN-VINTAGE-PHOTO-346J-/200624397706?pt=LH_DefaultDomain_0&hash=item2eb6255d8a.

Here's Carole as Penelope Newbold (love that character's name!) in "No One Man," in between romantic rivals Paul Lukas and Ricardo Cortez: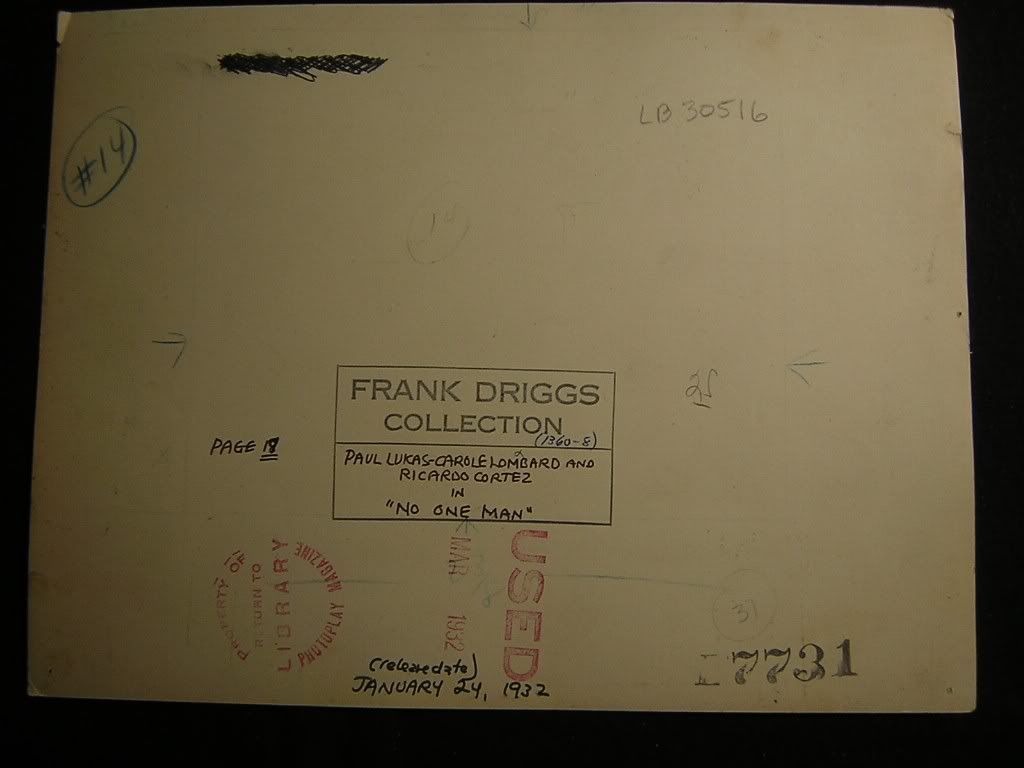 We discover that before joining the Driggs collection, this belonged to Photoplay magazine, which apparently used it in its March 1932 issue.

Bidding for this begins at $24.99 and will last through 9:26 p.m. (Eastern) Sunday. You can join the action at http://cgi.ebay.com/CAROLE-LOMBARD-NO-ONE-MAN-30s-VINTAGE-PHOTO-345J-/200624397920?pt=LH_DefaultDomain_0&hash=item2eb6255e60.

Finally, a pair from 1931's "Up Pops The Devil":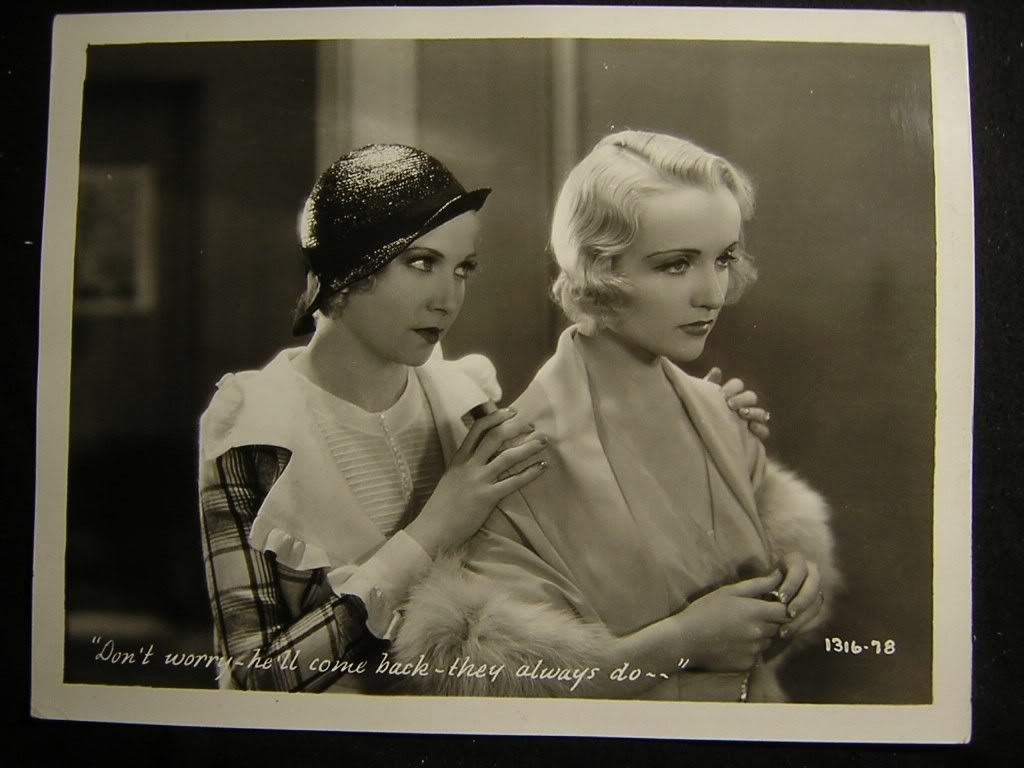 The first shows Lombard with leading man Norman Foster; bids for it begin at $24.99, with bids closing at 9:28 p.m. (Eastern) Sunday. It's available at http://cgi.ebay.com/CAROLE-LOMBARD-UP-POPS-DEVIL-VINTAGE-PHOTO-343J-/380350507027?pt=LH_DefaultDomain_0&hash=item588ea82813. The second is a lobby card (note the writing of dialogue from the film at the bottom), showing Carole being consoled by Lilyan Tashman. Comparatively rarer than the Foster pic, it has a minimum bid price of $99.99, and bids close one minute prior to its "Devil"-ish counterpart. Learn more at http://cgi.ebay.com/CAROLE-LOMBARD-UP-POPS-DEVIL-VINTAGE-PHOTO-344J-/400225570035?pt=LH_DefaultDomain_0&hash=item5d2f4d8cf3.

It's nice to come across these rare images of Carole in her early days of Paramount stardom, and we have a jazz buff to thank for such beautiful photographic music.

This week's header shows Carole in her glorious final role, as Maria Tura in Ernst Lubitsch's classic "To Be Or Not To Be."