This entry marks a milestone of sorts for "Carole & Co." -- the 1,600th since this community began nearly four years ago. (The actual anniversary falls on the 13th.) And appropriately, we have something special to mark it...a Carole Lombard photo you've almost certainly never seen before: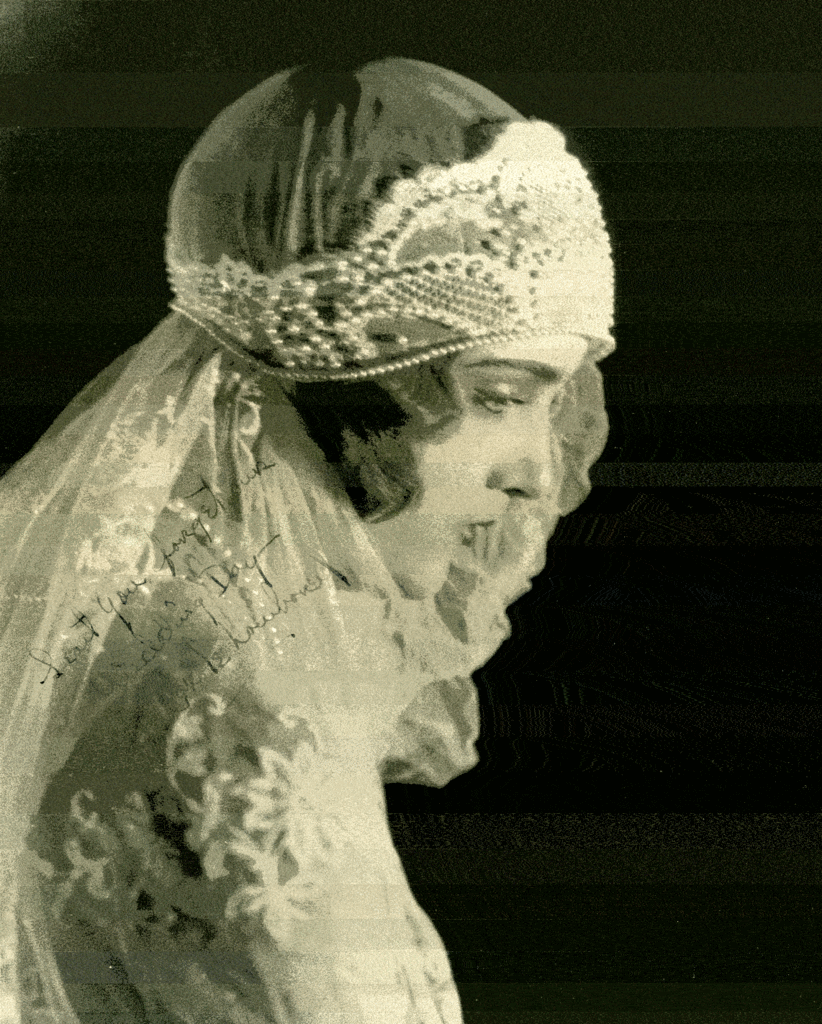 A nice bridal photo of Carole, something in connection with her 1931 wedding to William Powell, perhaps? You might think that, but you would be wrong. Here's the lowdown from Carole Sampeck of The Lombard Archive: "...this is actually from 'Marriage In Transit,' when comparing the bridal costume she wears with the lobby card [seen] in 'C&Co' from that film, where CL is standing between two young girls."

And here's that aforementioned lobby card:




It does look like the awfully young (16) Lombard, from her days as a Fox starlet. But, wait -- there's more to our "special" photo:




Again, Sampeck: "By deduction only from reading the inscription, we believe that this was given to her costar Edmund Lowe, although she does not recognize him on the photo by name. It surfaced in the collection of cinematographer Burnett Guffey some years ago. 'Marriage In Transit' does not appear in Guffey's filmography, but at the time the film was made, he would have been an assistant camera operator most likely. Have not researched whether or not Guffey worked with Lowe, or what their relationship might have been."

Here's Lowe and Lombard in a still from "Marriage In Transit." (The film, like the others Carole made before her 1926 automobile accident, is feared lost.)




Who took the bridal photo? The reverse shows a stamp from noted portrait photographer Ruth Harriet Louise.

Sampeck wrote of the erroneous Powell reference: "Although the seller thought this was an actual wedding photo and assumed it was from CL's marriage to Bill Powell, this is absolutely not accurate. The seller made a 1931 reference in the description which appears nowhere on the photo."

And while there is no date on the photo, it likely was signed not long after it was taken -- and the "Carole" spelling of Lombard's first name is yet another indication, along with contemporary newspaper accounts (http://carole-and-co.livejournal.com/394176.html, http://carole-and-co.livejournal.com/394306.html), that the long-held story that she was "Carol Lombard" from the start of her film career up to 1930 simply isn't true.

Finally, Sampeck wrote: "You may notice that rather than saying 'lest you forget,' our girl says 'LEAST you forget'! She always had a creative way with words." Or maybe it was something she missed in English class at Fairfax High School one day.

Whatever, this is a fascinating find, and I thank Sampeck for alerting me (and other Lombard fans) to it.