The biggest news Carole Lombard made in 1939 probably wasn't on the movie screen, but in real life, when after several years of waiting, she was finally able to wed Clark Gable. That isn't meant as a knock on her screen work that year, however. She made two movies in '39, both opposite leading men reaching filmdom's top tier. One was Cary Grant ("In Name Only"); this entry deals with her other co-star of '39, James Stewart, who teamed up with her for a drama with comedic overtones called "Made For Each Other." It would be part of a year's cinematic output that put him on the map for good.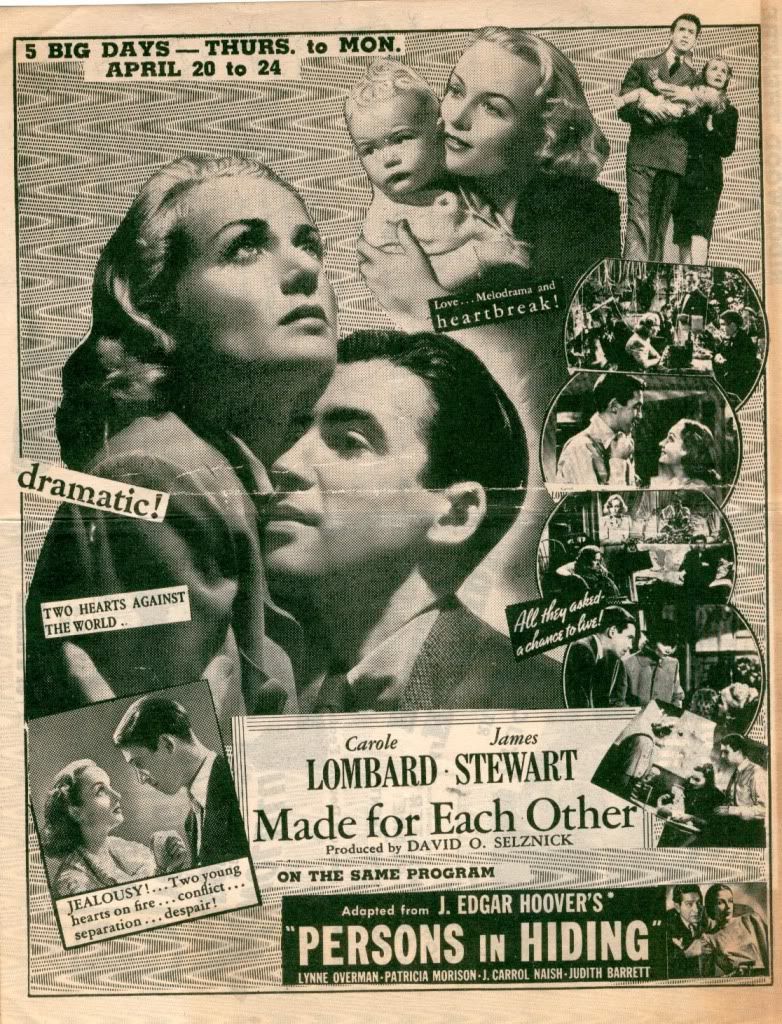 As '39 began, Stewart was hardly unknown to the moviegoing public. He had appeared in "You Can't Take It With You," which would win the Academy Award winner for best picture of 1938, but it was an ensemble piece and he didn't have to carry the film. Other notable appearances had been in "Born To Dance" with Eleanor Powell, in which he introduced the Cole Porter standard "Easy To Love" (although Stewart would have been the first to admit he was no singer) and "Vivacious Lady" with Ginger Rogers. While Stewart was engaging, he had yet to fully assert himself on screen. Of "Born To Dance," Alistair Cooke wrote at the time, "There is James Stewart, trying to be ingenious and charming like Gary Cooper, but many tricks and light years behind."

In 1939, Stewart would go beyond a mere Cooper clone, and it all began with "Made For Each Other" (filmed in the fall of 1938, but not released until the following February), which Stewart, an MGM contract player, made on loanout to Selznick International. He plays a young attorney who falls for Lombard; they get married and have a baby. The film, directed by John Cromwell (who would also direct "In Name Only"), well conveys the highs and lows of domestic life -- although the final third of the movie, where their child's life is endangered by a disease that needs a rare vaccine, devolves into melodrama -- and James and Carole have a solid cinematic chemistry. (They would team up for several radio appearances over the next two years, and although each would perform "Made For Each Other" for "Lux Radio Theater," it would be opposite other actors -- Fred MacMurray with Lombard in 1940, Marsha Hunt with Stewart in 1945.)




"Made For Each Other" received warm reviews. Frank S. Nugent in the New York Times wrote, "It is a richly human picture they have created, human and therefore comic, sentimental and poignant by turns." (His paper would list it among its top ten films of the year.) John Alden in the Minneapolis Tribune -- who said he still preferred Lombard in comedic roles -- wrote, "Jimmy Stewart is becoming better and better, in our humble opinion, with every picture. His naturalness and freshness haven't been lost, and at the same time they haven't begun to pall on us."




But did MGM notice? The first film Stewart made for the studio in '39 was a lackluster vehicle called "Ice Follies Of 1939," in which we see him partnered in a ridiculous romantic triangle with Joan Crawford and Lew Ayres, featuring spectacle from the real-life Shipstad and Johnson ice troupe in Metro's attempt to cash in on the Sonja Henie ice craze. Fortunately, his next film at MGM was more substantial: a little comedy, directed by W.S. Van Dyke of "Thin Man" fame and co-starring Claudette Colbert, called "It's A Wonderful World." It's plenty of fun, and because its title is similar to that of Stewart's most famous film, it occasionally gets lost in the shuffle.




The eventual director of that other "Wonderful" film, Frank Capra (who'd worked with Stewart in "You Can't Take It With You"), brought James back to Columbia to star in one of the year's best-loved movies, "Mr. Smith Goes To Washington." This movie, co-starring Jean Arthur, is arguably where Stewart as all-too-human hero comes to the fore; his speech before the Senate ranks as one of the high points of his career. The New York Film Critics named him best actor of 1939 for this performance, beating out the likes of Gable, Robert Donat and others.




Another studio (Universal), another leading lady (Marlene Dietrich!), another genre (comic western), and a completely different Stewart for "Destry Rides Again," where James plays a sheriff who eschews violence a decade before making his series of acclaimed psychological westerns.




Not a bad way to close the year, arguably the best calendar year for an actor since William Powell in 1936 (although Powell's output that year never had anything as tawdry as "Ice Follies").

Stewart's 1940 would be nearly as good: "The Shop Around The Corner," directed by Ernst Lubitsch; "The Mortal Storm," a look at life in Nazi Germany; "No Time For Comedy," an adaptation of a play; and "The Philadelphia Story," for which he would win an Oscar as best actor. For a two-year stretch, Stewart's output would be difficult to beat. And following World War II, he returned as an actor of unique complexity, with a maturity and edge largely absent in his earlier roles. But Stewart's star began to shine for good in 1939...and it all started with "Made For Each Other."

This week's header shows Carole on the phone, kicking up her heels. (Maybe she's excited about this blogathon, too.)




For the list and links to the various entries, go to http://clamba.blogspot.com/2011/04/classic-movies-of-1939-blogathon-may-15.html.