What are Carole Lombard and Fred MacMurray doing behind bars, especially when we know it's not from "True Confession"? (Fred has no mustache...and he isn't fooling anyone with his scowl.) Looks like the photographer had some fun with it; supposedly it's from "Hands Across The Table."

That photo above comes from the latest batch of Carole clippings courtesy of Tally Haugen, and today we're going to examine a few items related to the four movies Lombard and MacMurray made together (also her final four films at Paramount). "Hands" has been taken care of, so now let's go to "The Princess Comes Across":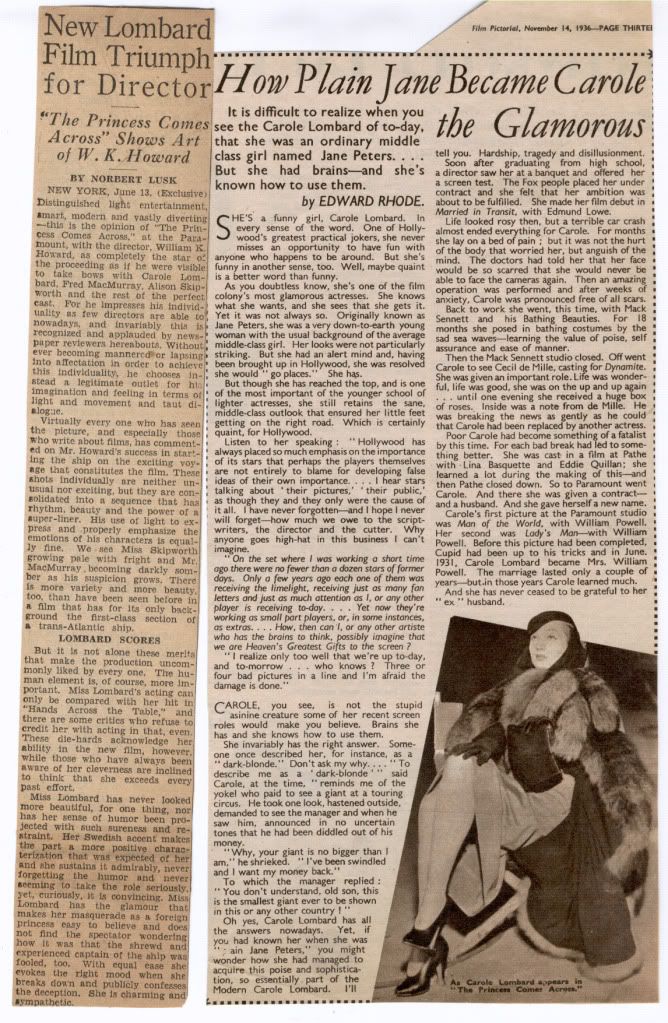 There are two articles here. The first is from New York-based Norbert Lusk, a well-known writer of the time who worked for Picture Play, the Los Angeles Times (which is where I believe this came from) and other publications. Interesting to see her that Lusk focuses on the directing of W.K. Howard, someone not all that well remembered among directors of that era, though he does say, "Miss Lombard's acting can only be compared with her hit in 'Hands Across The Table,' and there are some critics who refuse to credit her with acting in that, even. These die-hards acknowledge her ability in the new film, however, while those who have always been aware of her cleverness and inclined to think she exceeds every past effort."

Lusk became friends with a number of actresses, notably Joan Crawford, and later did some film publicity work before his sudden death in mid-1949.

The other item comes from "across the pond," specifically the British magazine Film Pictorial of Nov. 14, 1936. This article, "How Plain Jane Became Carole The Glamorous," has some delightful quotes from her, such as:

"Hollywood has always placed so much emphasis on the importance of its stars that perhaps the players themselves are not entirely to blame for developing false ideas of their own importance. ... I hear stars talking about 'their pictures,' 'their public,' as though they and they only were the cause of it all. I have never forgotten -- and I hope I never will forget -- how much we owe to the scriptwriters, the director and the cutter. Why anyone goes high-hat in this business I can't imagine."

Next up..."Swing High, Swing Low":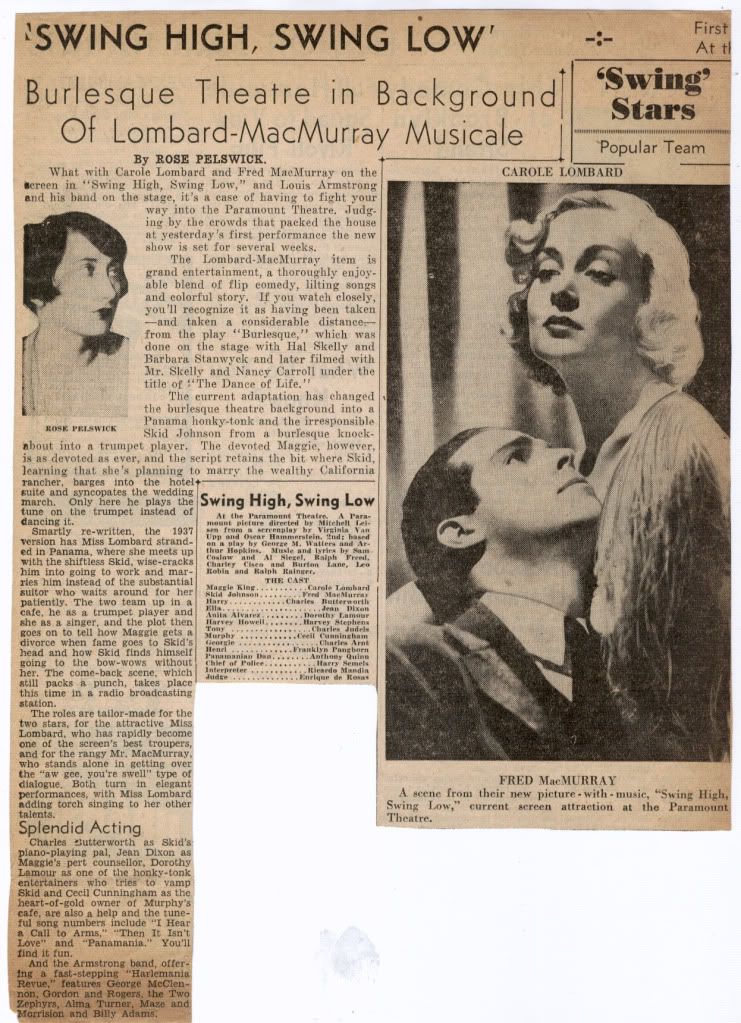 This review was written by Rose Pelswick, a longtime movie critic for Hearst in New York (she wrote for the chain into the 1960s); this was from the New York Evening Journal, not long before it merged with the morning American to form the Journal-American. Pelswick generally approved of the film, and note that in the final paragraph she makes reference to "the Armstrong band" at the Paramount theater -- that's Louis Armstrong's orchestra performing in between showings. Lombard and Louis in Times Square? Not a bad combo.

Finally, "True Confession," from near the end of '37, and guess what magazine did a piece on it?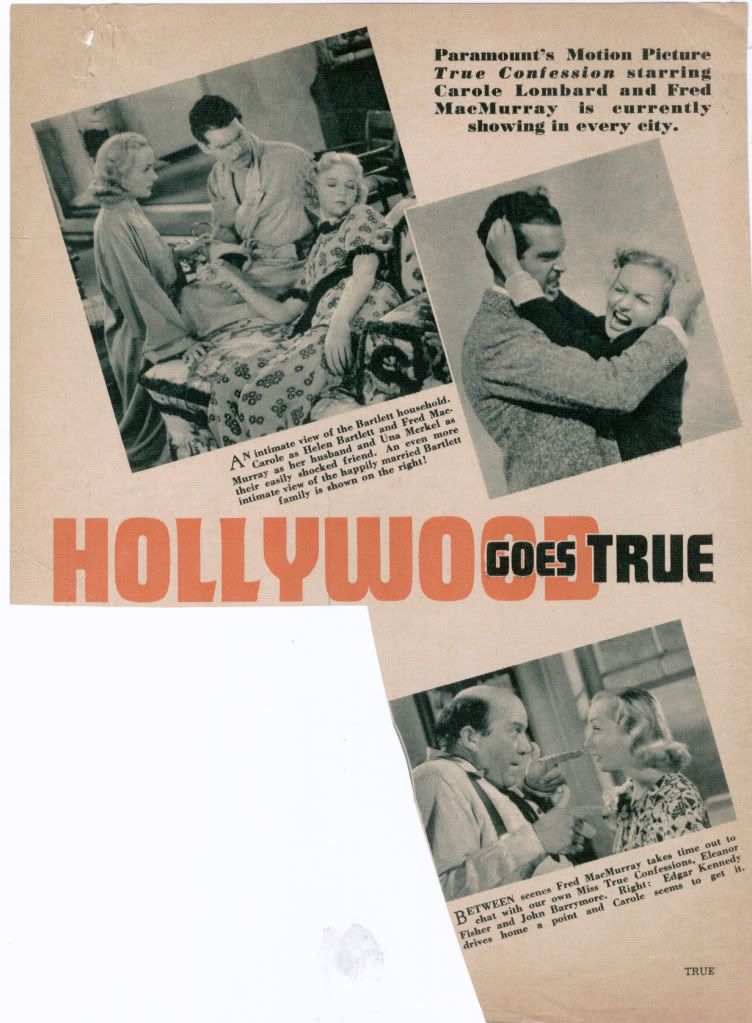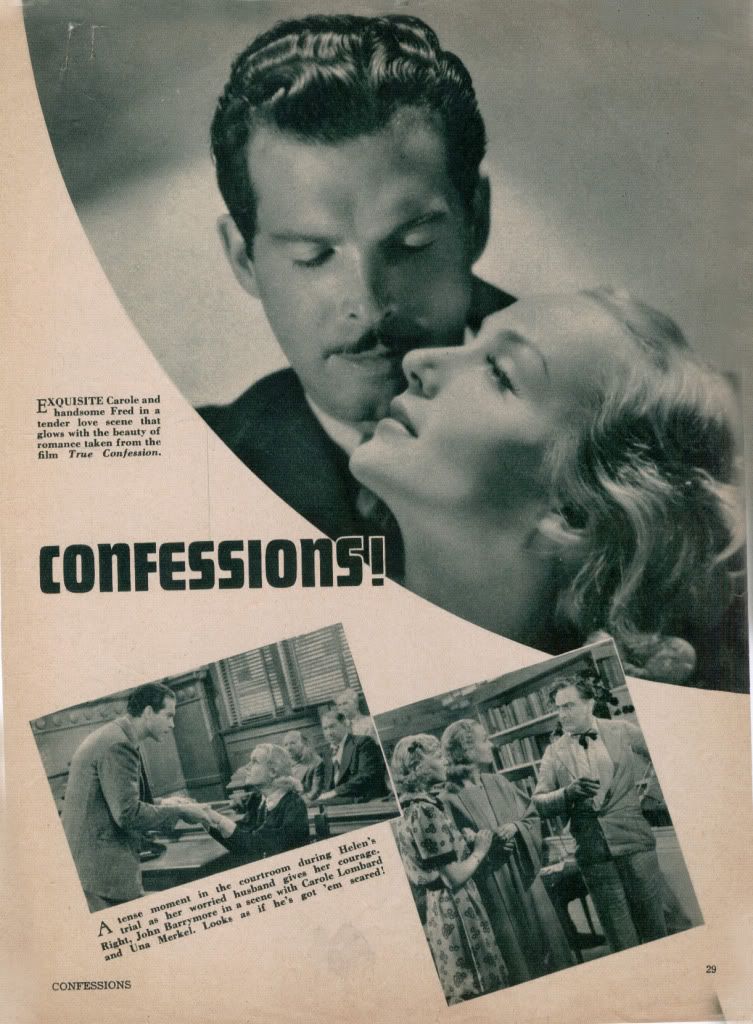 Why, True Confessions, of course. (A little log-rolling never hurt.)

And to close, a photo of the acquittal scene, which I believe ran in the Los Angeles Times of Nov. 7, 1937: