Carole Lombard may have looked nervous while viewing the dailies for "They Knew What They Wanted" with director Garson Kanin and co-star Charles Laughton, but she wasn't the only one who was tied up in knots over the film. Just getting it to that point was a challenge, as the producer vouched in print.

Erich Pommer was one of the most respected people in international film, producing some of the best German movies of the Weimar era -- "The Cabinet Of Dr. Caligari," "The Last Laugh," "Metropolis" and "The Blue Angel," among others. After the Nazis came to power, he left Germany, working for Fox, Alexander Korda and others (including two films with Laughton). In 1939, he signed a deal to produce films for RKO and decided to adapt Sidney Howard's Pulitzer Prize-winning play, "They Knew What They Wanted." What happened next was the subject of a story in a New York newspaper: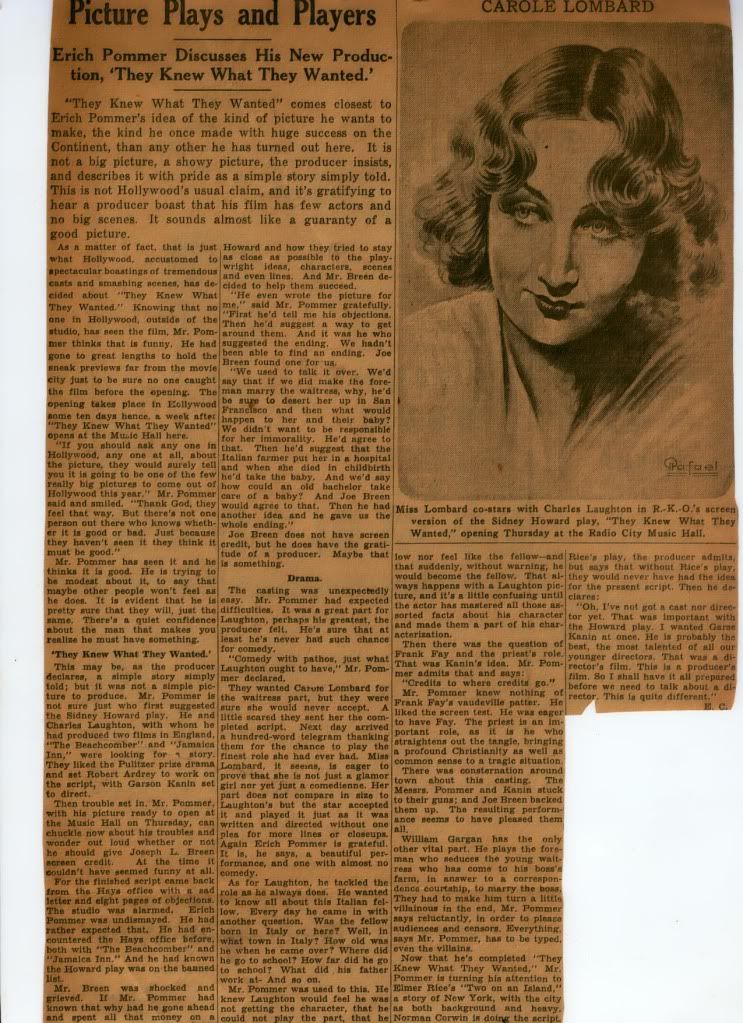 (This is from Tally Haugen's recently-acquired treasure trove of Lombard memorabilia. Unfortunately, the item is incomplete, and I'm not sure what newspaper it's from.)

"For the finished script came back from the Hays office with a sad letter and eight pages of objections." Pommer knew he would have a difficult time with Joseph Breen, and was aware the play had been on the banned list. So Pommer decided to make an adversary his ally.

"First (Breen told) me his objections. Then he'd suggest a way to get around them. And it was he who suggested an ending. We hadn't been able to find an ending. Joe Breen found one for us."

For all the inveighing we've made against Breen at "Carole & Co.", it must be said the guy liked movies. In fact, for a time in the 1940s, he left his position as industry censor and became an executive at RKO.

How did Carole get involved in the project?




"They wanted Carole Lombard for the waitress part, but they were sure she would never accept. A little scared they sent her the completed script. Next day arrived a hundred-word telegram thanking them for the chance to play the finest role she had ever had. Miss Lombard, it seems, is eager to prove she is not just a glamor girl nor yet just a comedienne. Her part does not compare in size to Laughton's but the star accepted it and played it just as it was written and directed without one plea for more lines or closeups. Again Erich Pommer is grateful. It is, he says, a beautiful performance, and one with almost no comedy."

Interesting that Lombard still had the "comedienne" tag after having appeared in the drama-tinged "Made For Each Other," the romantic drama "In Name Only," and the nearly somber "Vigil In The Night."

"They Knew What They Wanted" received approving reviews for the most part, but if Pommer and RKO expected blockbuster business, they were disappointed. And if Lombard signed onto the film hoping it might be Academy Award material, she was disappointed, too; the only Oscar nomination it received went to William Gargan for best supporting actor.

As for Pommer, he suffered a heart attack in 1941, recovered, and returned to Germany in 1946. There, he helped rebuild the German film industry, but he never regained his earlier glory. Pommer, who had gained American citizenship in 1944, returned to California and died in 1966.