I trust you're having a splendid, joyous Thanksgiving, and today I thought we'd give thanks to the city Carole Lombard called home for most of her life, Los Angeles. Even in solely a cinematic context, it is rich in history, but LA is so much more than that -- a city that a century ago was growing, but not yet dominant on the West Coast. Two decades later, it had clearly usurped San Francisco for that honor (and while the blossoming film industry had plenty to do with it, other businesses such as oil and aviation played major roles, too).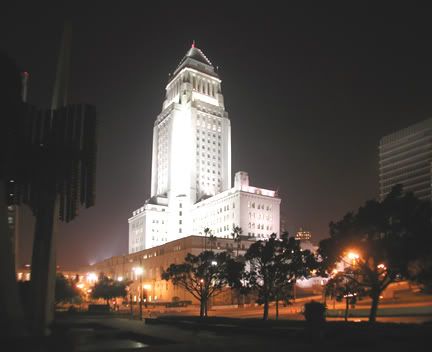 A website called "Skyscraper City" (http://www.skyscrapercity.com/) is, as you might suspect, a celebration of skyscrapers, something that came fairly late to Los Angeles because of seismic fears over earthquakes; indeed, it wouldn't be until the late 1950s -- when construction methods had improved -- that LA allowed buildings as tall, or taller than, its famed City Hall (above), which opened in 1927.

But Skyscraper City also examines the urban experience in cities around the world -- there are a treasure trove of images here, and anyone with a passing interest in architecture and planning could examine this site for hours.

One of the contributors is a man named Jesus E. Salgado, who lives in Los Angeles County and has called southern California home for more than 50 years. Since January 2009, he's been putting up images of LA in a thread called "Evolution through time of Los Angeles California" (http://www.skyscrapercity.com/showthread.php?t=786986), and, simply put, it's a wow. As of this writing, he has installed more than 2,200 images (on 115 pages!), maintaining a roughly chronological theme beginning at the time of the missions (although many of the photos, especially of the early sites, were taken in recent years). He's now up to the mid-1920s, which means many more photos are to come.

Here are nearly two dozen of the images. First, Olvera Street, where Los Angeles began (you can see Union Station in the background). The foreground building served as a Mexican consulate for many years:




One of the earliest photos ever taken of Los Angeles, then a sparsely populated town, from about 1850, not long after California gained statehood:




This is North Main and First in 1857:




The Masonic Hall, built in 1858 and still standing today:




This charming Victorian residence was built in 1873:




Here's Third Street, west from Hill, about 1890:




Spring Street, downtown, in 1892:




The remarkable interior of the Bradbury Building, constructed in 1893:




A year ago, our Thanksgiving entry mentioned fabled Mount Lowe, a southern California sightseeing spot for decades (http://community.livejournal.com/carole_and_co/259167.html). Here's what "the railway in the clouds" looked like in 1893:




The Hollywood Hotel, built in 1905 and razed in the 1950s:




The Hotel Alexandria, built in 1906 and the gathering place for film folk (and others) in the first two decades of the 20th century...




...and the hotel's wondrous Palm Court:




Third and Hill streets again, this time from 1910 with the fully developed Angels Flight funicular:




Julia Morgan, famed architect of Hearst Castle at San Simeon, designed this Los Angeles newspaper building for Hearst in 1915. This is how it looked in 1939 -- half a century before the Hearst chain would shut down its last LA paper, the Herald Examiner:




This postcard from 1917 showed how people watched films being made at Universal City, which had opened two years earlier:




The Ambassador Hotel, whose Cocoanut Grove was a frequent hangout for Lombard in her teen years, not long after it opened in 1921:




The interior of Sid Grauman's Egyptian Theater, which opened in the early 1920s:




Mary and Doug putting the finishing touches on the Pickford-Fairbanks Studio in 1922:




Pershing Square, and the newly constructed Biltmore Hotel, in 1922:




What a tow truck (and a lady's summer dress) looked like in 1923:




The Hollywood Bowl in 1924:




And finally, Vermont near Wilshire in 1924, not that far from where Lombard (then officially Jane Alice Peters) resided on North Wilton Place:




Have a wonderful Thanksgiving!