In 1940, Carole Lombard provided public encouragement to a young Elizabeth Montgomery regarding a future entertainment career (
http://carole-and-co.livejournal.com/529450.html
). Perhaps Liz returned the favor in Hollywood heaven by teaching Carole the art of conjuring witch spells (if it involves nose-twitching, one hopes Myrna Loy is instructed, too).
That's the only explanation I have for what happened yesterday, when my desktop modem was down and I was told I'd have to wait for a repairman to visit my apartment on Sunday. After a trip to downtown Los Angeles, using my laptop in the library and then visiting Dodger Stadium (I
always
go to a ballgame om my birthday), I returned home late Tuesday to find my desktop computer again was fully functional, as was my telephone. Was it some magic from Carole, a birthday present from her to me? I don't know, but I'm going to give her the credit and thank her for being such a kind witch.
With that out of the way, let's talk about one of the many fun things Los Angeles has for a classic movie enthusiast such as myself -- the annual Labor Day extravaganza known as Cinecon. This year, it's Cinecon 50, from Aug. 28 to Sept. 1. We've discussed this event before (
http://carole-and-co.livejournal.com/234802.html
,
http://carole-and-co.livejournal.com/439497.html
), but this marks the first time I'll be able to attend. Its home base is the famed Egyptian Theater on Hollywood Boulevard.
No Lombard films are among the 33 features on this year's schedule (
http://www.cinecon.org/cinecon_schedule.html
), but there are some fascinating things on the card, as usual predominantly comprised of both silents and early talkies. Liked seeing William Powell on his TCM Summer Under The Stars day Aug. 9? At 3:55 p.m. Aug. 29, another film of his will be shown -- "The Baroness And The Butler" (1938), co-starring Annabella:
Constance Talmadge was among the most popular comedic actresses of the 1920s, but many of her films are hard to find today. That will change at 8:15 p.m. Aug. 30, when a newly restored version of "East Is West" will run in the U.S. for the first time since it was released in 1922.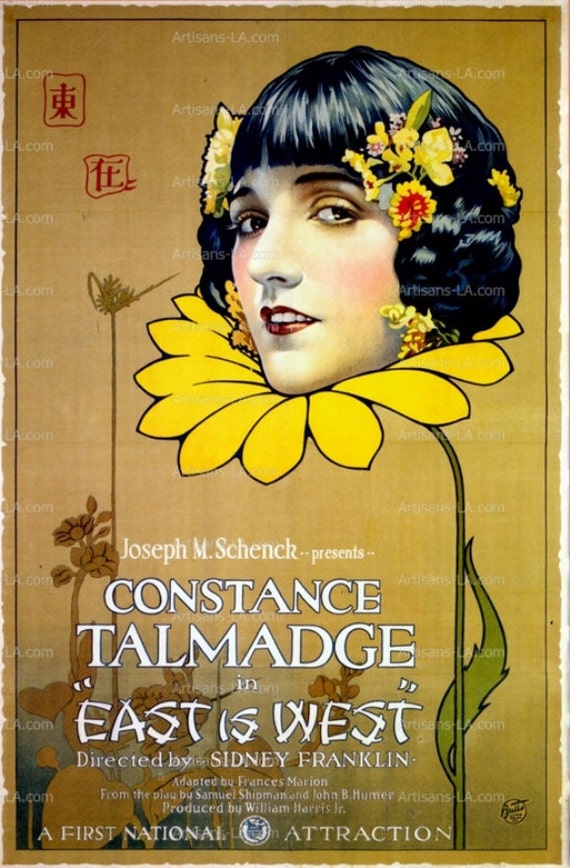 Three Charlie Chaplin and two Mary Pickford movies are slated to run, and at 10:55 a.m. Friday, historian John Bengston will conduct a talk, "Hollywood's Silent Echoes," followed by a walking tour that will carry through to lunch. Ruta Lee will appear to discuss "Witness For The Prosecution" on Saturday, while Margaret O'Brien will do likewise on Sunday for "Meet Me In St. Louis." (Other celebrity guests include my Facebook friend Francine York, Diane McBain, BarBara Luna and H.M. Wynant.)
Cinecon has been around since 1965, and has called Los Angeles its home since 1990. It defines itself this way: "We specialize in running rare, unusual and unjustly forgotten movies from the silent and early sound era. Most films are screened in 35mm and silent films include live piano accompaniment." A memorabilia show runs concurrently with Cinecon.
There is no admission to individual films; instead, there are festival and single-day passes. Day pass rates are as follows:
Thursday, August 28
, 7 pm-midnight, $25
Friday, August 29
, 9 am-midnight, $30
Saturday, August 30
, 9 am-midnight, $30
Sunday, August 31
, 9 am-6 pm, $30
Monday, September 1
, 9 am-7 pm, $25
For more information, visit
http://www.cinecon.org/cinecon_home.html
.
It promises to be plenty of fun (and magical, too, whether or not any good witches drop by), so if you're going to be in southern California Labor Day weekend, come on over and take part for a day or two.