You know "True Confession," the 1937 movie starring Carole Lombard and Fred MacMurray. But do you know
True Confessions
(with an "s" at the end), the popular magazine which featured Carole on its cover several times?
True Confessions
really wasn't a fan magazine, but it occasionally put Hollywood stars on the cover because...well, they boosted newsstand sales. And every now and then, it would run a story on a screenland personality.
Lombard achieved both of these feats in the August 1934 issue: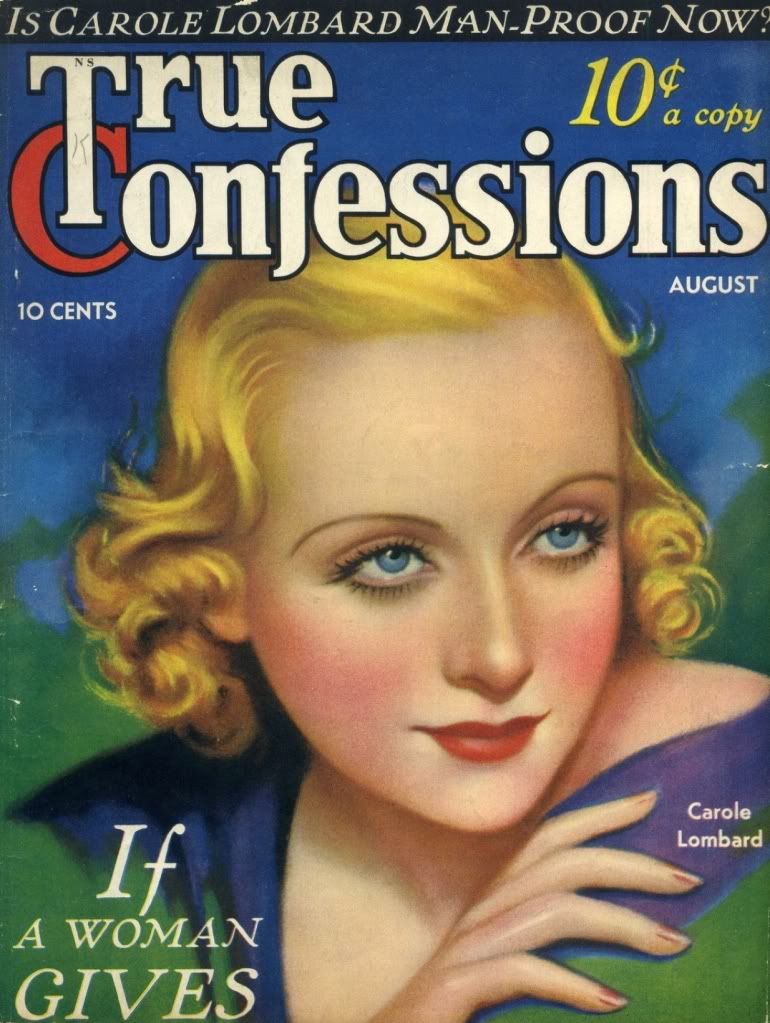 The story asks, "Carole Lombard -- Is She Man-Proof Now?" That was a common phrase in the 1930s; indeed, Myrna Loy once made a comedy called "Man-Proof." This story is seven pages long, with photos on four of them, and would probably be an interesting snapshot of Lombard in the year following her divorce from William Powell. I'm just guessing, though, since I've never seen this story, nor is it listed in the Robert Matzen book "Carole Lombard: A Bio-Bibliography."
However,
someone
will be able to check it out, because the magazine is being auctioned at eBay. It's listed in very good condition, and bids on it begin at $9.95 (none have been made as of this writing). Bidding concludes at 10:03 p.m. (Eastern) next Tuesday. If you're interested in owning this piece of Lombardiana or would like to learn more, visit
http://www.ebay.com/itm/True-Confessions-Aug-1934-Carole-Lombard-Cvr-7-pgs-/350559950367?pt=Magazines&hash=item519f00561f
.
Oh, and if you win the bidding -- or somehow already own a copy of this issue -- please forward us the story so fellow Lombard fans can check it out.