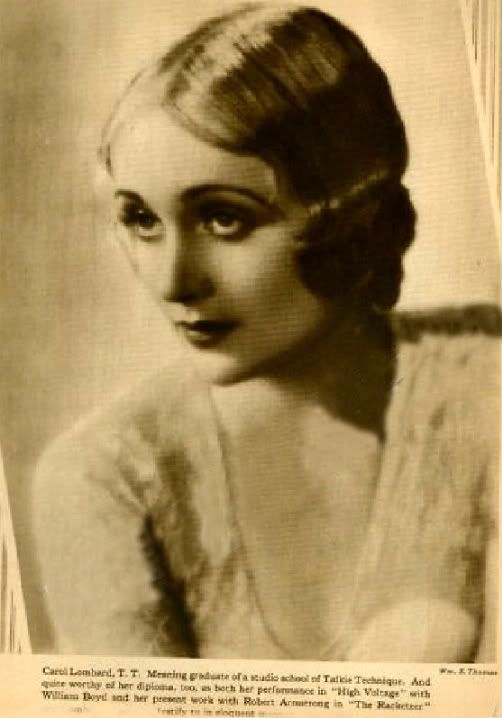 While we recognize Carole Lombard as having graduated from Virgil Junior High School in Los Angeles (she dropped out of Fairfax High School to pursue a film career), an unknown fan magazine in 1929 claims she has another sort of "diploma," this one majoring in "TT." What's that, you say? "Talkie Technique." In full, here's what the caption reads:
Carol Lombard, T.T. Meaning graduate of a studio school of Talkie Technique. And quite worthy of her diploma, too, as both her performance in "High Voltage" with William Boyd and her present work with Robert Armstrong in "The Racketeer" testify to in eloquent manner.
Considering how many in Hollywood failed to get their degree in the subject or decided not to even try (e.g., Constance Talmadge), that was a genuinely notable achievement for 1929. (Intriguing that while "High Voltage" and "The Racketeer" were cited, "Big News" -- which came in between those films -- wasn't. Did Howard Higgin, director of the two films mentioned, write this caption?) And about the time this picture reached print, Lombard's "degree" meant little to Pathe, as new "student" Constance Bennett apparently helped get Carol get kicked off the Culver City campus.
You can buy this vintage magazine photo, taken by William E. Thomas, for $16.50. Go to
http://cgi.ebay.com/CAROLE-LOMBARD-Vintage-PHOTO-Sexy-CAROL-Low-Cut-Top-/380345681060?pt=Art_Photo_Images&hash=item588e5e84a4
for details.
The same seller has this item, also from a magazine, but issued sometime in early 1931: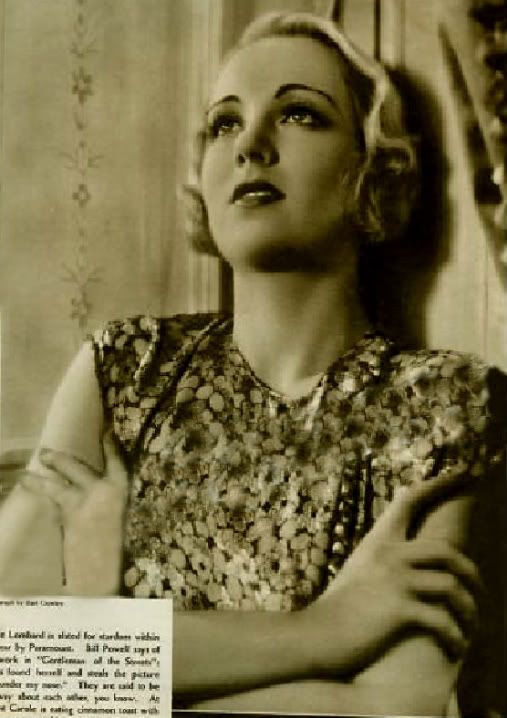 This caption begins with "Carole Lombard is slated for stardom within a year by Paramount," cites a comment from William Powell about her, and notes they are an item.
It's 7" x 10.5", also sells for $16.50, and can be found at
http://cgi.ebay.com/CAROLE-LOMBARD-Vintage-PHOTO-Sexy-CAROL-Stunning-/150615943098?pt=Art_Photo_Images&hash=item231168e7ba
.
Thanks to Tally Haugen for her work on these photos, as well as those in yesterday's entry.