"They Knew What They Wanted," which was released in the fall of 1940 and would turn out to be Carole Lombard's final excursion into drama, has a rather unsettled history. It's been said Lombard and co-star Charles Laughton had little fondness for each other, and yet neither could claim prior ignorance of their differences, since they had teamed up never seven years earlier for the campy Paramount programmer "White Woman."
In contrast, "They Knew What They Wanted" was a top-line item from the get-go. It was an adaptation of Sidney Howard's Pulitzer Prize-winning play from the 1920s, though some of the story was watered down to appease Joseph Breen and industry censors. RKO hoped that with Laughton, a former Academy Award winner, and Lombard, a past best actress nominee, this would be a prestige production that could make some noise come Oscar time. (Neither of the leads would be nominated, though William Gargan secured a best supporting actor nomination.)
The latest batch of Lombard clippings scanned my way from Tally Haugen provides some background into the film, from both contemporary newspapers and fan magazines, as well as quite a few rare photographs. We'll kick it off with sort of an alpha and omega -- part of a Louella Parsons column from March 1940 stating Lombard and Laughton had been cast in the leads, alongside a review of the movie from Kate Cameron of the
New York Daily News
and a photo of Carole with director Garson Kanin and a floral horseshoe: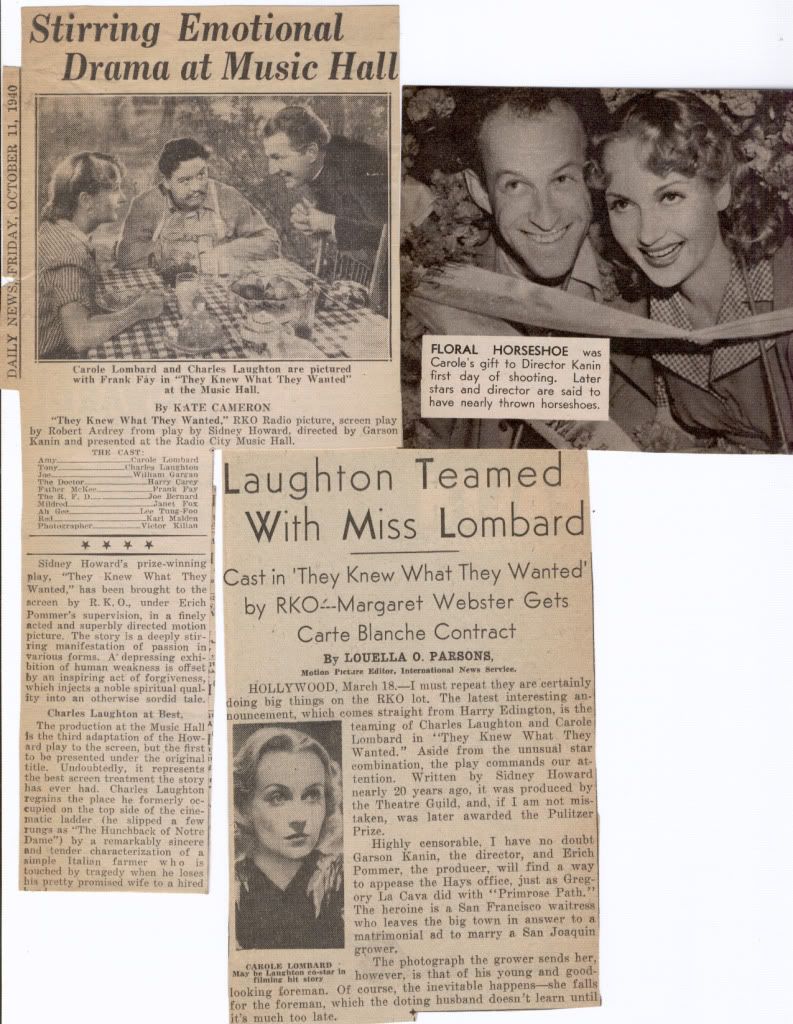 A fan magazine took a publicity photo of Carole and Charles, then added a caption: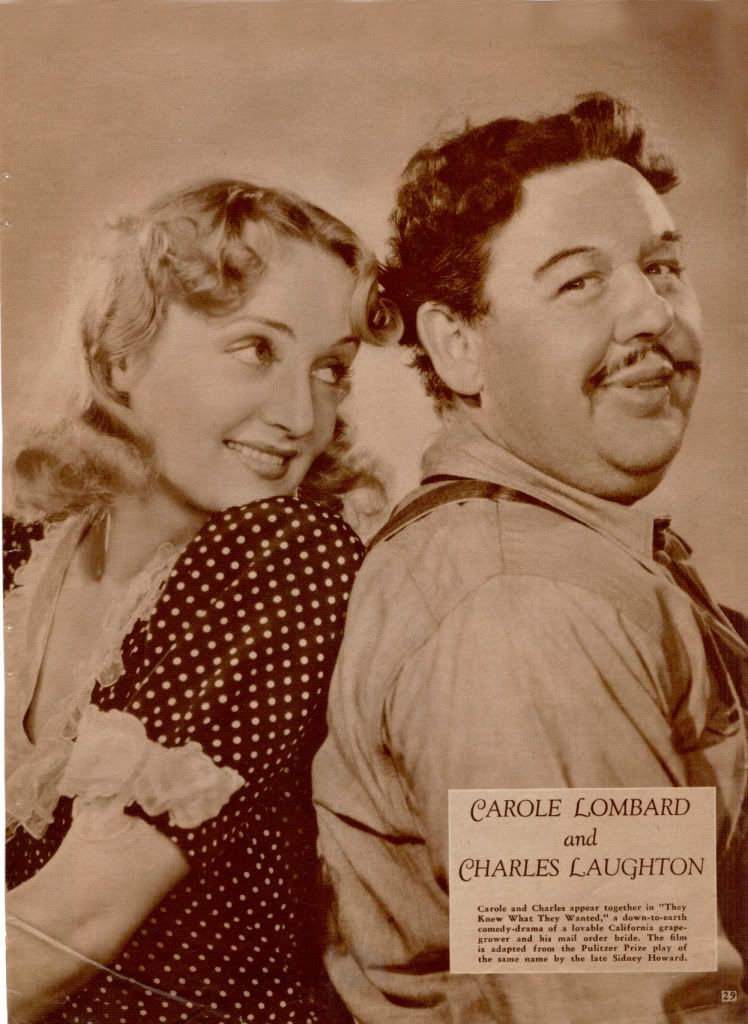 The fan magazine
Movies
ran a two-page spread of location photos, including a trio of a jovial Lombard and Laughton at right: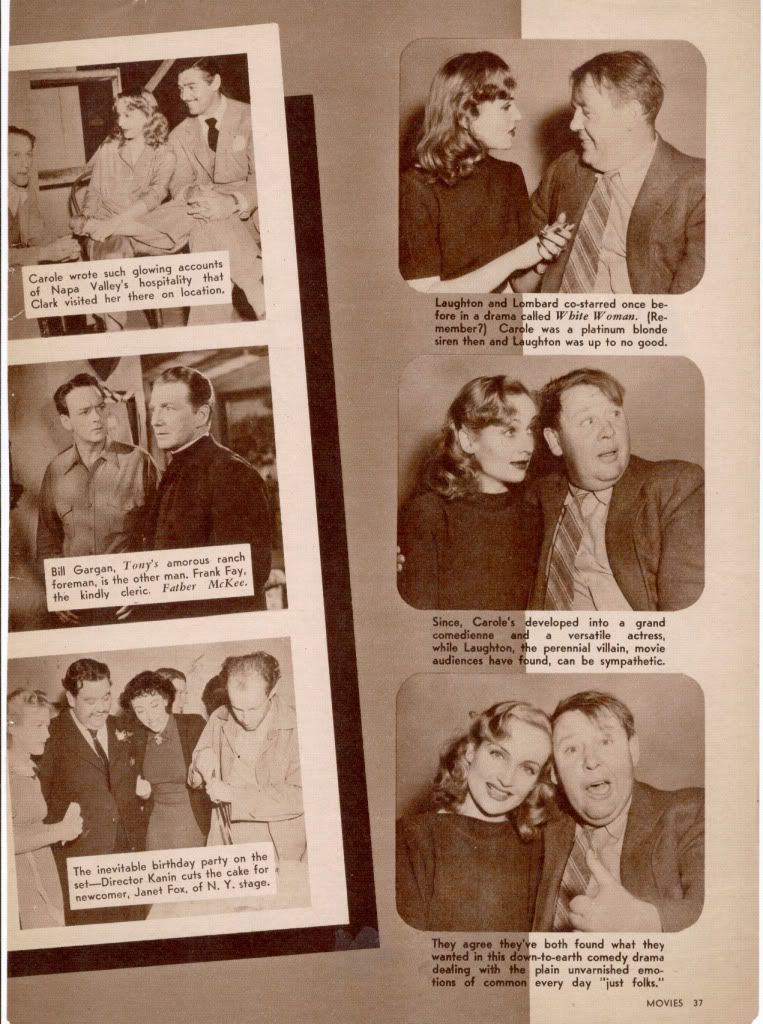 Such poses weren't enough to quiet the chatter that the co-stars were not on the best of terms. So a fan magazine (not sure which one) decided to "investigate."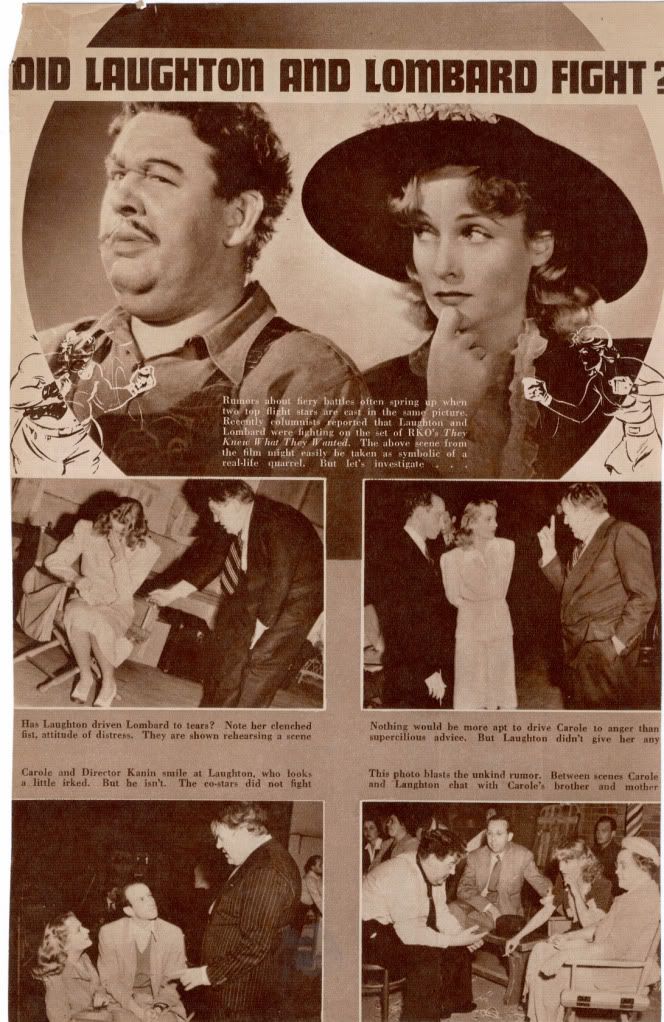 It's hard not to get a kick out of the drawings of Lombard and Laughton in boxing mode (evoking memories of "Nothing Sacred"). And how about that photo of Stuart and Elizabeth Peters coming up to Napa to check out action on the set? (A little known fact: Elizabeth was at the Hollywood premiere of "Citizen Kane" at the El Capitan theatre in May 1941. One guesses that Lombard was invited by Orson Welles, but was reluctant to go for fear of antagonizing William Randolph Hearst and her good friend, Marion Davies. Welles arranged a private screening of "Kane" for Carole and Clark Gable later that year. Below is the exterior of the RKO lot in '41; you can see the ad for "Kane," and a note that the El Capitan was the only Los Angeles theater showing the film.)
So was there genuine tension between Lombard and Laughton during the filming of "They Knew What They Wanted," or was it overblown? I'll leave the verdict up to you.